Buying a car in Mexico can be very convenient. Especially when you need to get to a specific place at a specific time such as a doctor's appointment or the veterinarian since most public buses or taxis won't allow dogs.
Having your own vehicle also gives you the flexibility to make grocery runs without having to rely on rideshares or public transportation any time of the day. For example, In places like Ajijic, taxis stop running after 8 pm. That's why it's incredibly convenient to have your own means of moving around.
Here are some things you should know before buying a car in Mexico:
Can a tourist buy a car in Mexico?
How to buy a new car in Mexico
How to buy a used car in Mexico
How to check the car is not reported stolen
Why you need a "Factura"
How to ask for proof of "Tenencia" and what it means
And why we recommend hiring a facilitator to take care of everything for you
Can You Legally Buy A Car in Mexico As A Foreigner?
First, we should discuss who can legally buy and register a car in Mexico. This is particularly important if you're not yet a temporary or permanent resident.
To register a vehicle in Mexico, you'll need a CURP. A CURP (Clave Unica de Registro de Poblacion) is a unique number given to residents and citizens of Mexico. Think of it as a social security number if you're from The United States.
You cannot get a CURP as a tourist, and therefore can't legally register a car in your name on a tourist visa.
If you're not sure what a CURP is and how you can get one- we have the answers to that and other questions in our Mexico Relocation Course.
Where Do You Find Cars To Buy?
Buying A New Car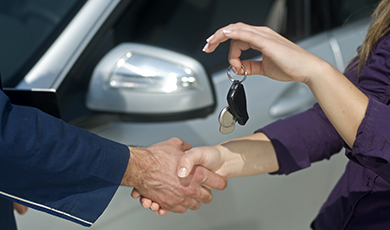 If you're buying a brand new car, the car buying process is almost the same as in the U.S. or Canada. You go to a car dealership near you, find your perfect match, and agree on a price with the dealership. Done!
Notice I said ALMOST the same. The main difference is, the price you see listed for a car in a dealership in Mexico is NOT NEGOTIABLE. You cannot ask the finance manager to give you a lower price, and negotiating is out of the question. But this should give you peace of mind that you won't get gringo-priced. You also won't get the pushy salesman who does the whole "let me talk to my manager" dance.
While financing is possible in Mexico, it usually comes with high-interest rates that can really add up. Most dealerships that offer in-house financing will offer an expensive interest rate of up to 25%.
You read that right… 25% interest rate
Buying a Used Car
But what if you can't afford a new car, or would rather get a used car simply because you found a good deal? There are a few sites that most locals use to find used cars all around the country. A few of them are:
Most of these websites promote used cars sold at dealerships near a geo-location where you are browsing. If you want to look for cars in a specific city, you'll likely need to change the location on the site.
Keep in mind that when you reach out to whoever is posting a car for sale, that they'll likely only speak Spanish. Also, keep in mind that some of these listings may have fake information. It's the internet after all, and scams can happen. To avoid this, I've put together a list of reputable and honest car brokers in Mexico you can buy a used car from. They will do all the paperwork for you, register your vehicle, speak English, and some even offer their own in-house warranties.
If you'd like to get access to all of our recommended contacts throughout Mexico including car brokers, check out our Mexico Relocation Course.
Another way to find used cars in Mexico is by word of mouth. If you're looking for a car that's in good shape and in decent condition let people around you know or post it on various ex-pat groups. If there's an offer out there that sounds enticing, you can agree to look at the car then.
However, we have also heard from people who were taken advantage of because they didn't know what to look out for. The car buying process in Mexico can be a bit different. And if you don't know how to check that you are doing so in a correct and legal way, you could end up losing some money.
You Found The Perfect Car.. What's Next?
New Car
If you buy your perfect car at a dealership, they'll handle all the paperwork for you! The dealer should give you
the invoice of payment or an official "factura"
your proof of payment for taxes or "tenencia"
and your registration card or "tarjeta de circulacion"
Used Car
If you're going the used car route, you should always have the car checked by a mechanic first. If you don't have a reputable mechanic you can work with you can always call a dealership around you and ask their recommendations for recommendations on reputable mechanics in the area.
You can also ask one of our recommended car facilitators in Mexico when you purchase the Mexico Relocation Course. They are usually well connected with the most reputable mechanics in town.
Things You Should Check on Used Cars
To be safe and avoid any scams, check the seller's ID and verify that he/she is the owner of the car and that the name matches the title. To verify that the car isn't stolen, you should check that the VIN number in the car matches the VIN number on the original receipt of payment aka the "factura".
To check that the "factura" is an official or authentic invoice, you can check its authenticity on the Mexican treasury website.
If it's authentic, you'll get redirected to another window that will allow you to print this confirmation. However, if it's fake, you'll get a message letting you know the "factura" is not in their system.
Check The Car Is Not Reported "Stolen"
And to make sure the car is not stolen, you can check this database to make sure it's not reported stolen. (see image below) You'll need to right-click and translate to English to fill it out.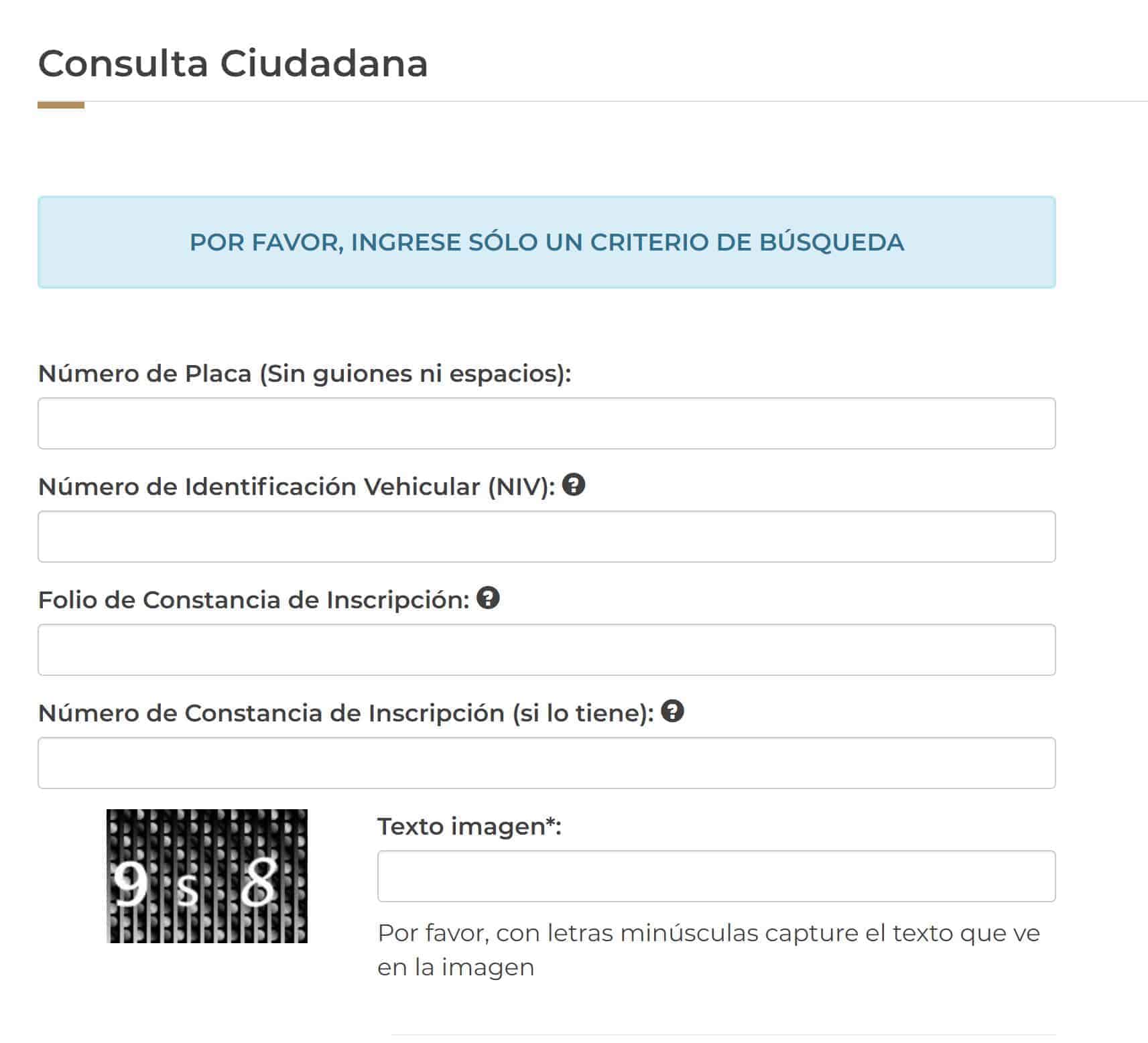 Keep in mind that section 3 is the number on your blue tag. See the example below.
And Number 4 "Constancia de Inscripcion" is optional.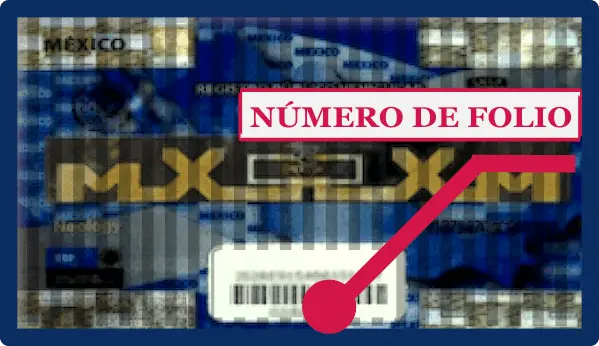 Ask for Proof of Tenencia
The seller should also provide you with proof that the taxes or "tenencia" have been paid in previous years. If you decide to buy the car knowing that back taxes are owed on the car, you won't be able to register the vehicle until the "tenencia" is fully paid off.
Using A Facilitator
You might find that buying and registering a used car in Mexico sounds a little daunting. Because let's face it, not only is the process of buying a used car entirely in Spanish but sometimes asking for help with the whole process is a better use of your time. That is why I highly suggest hiring a facilitator or car broker.
A good car facilitator will check for:
The original invoice for the vehicle (factura). This invoice must be presented however old the car is, and each previous owner should have signed the back of the factura when selling the vehicle
If the vehicle was imported legally (with Mexican plates), the original registration document must be presented instead of the invoice along with all import documents (Pedimento de Importación)
Check the database in Mexico to see that the car has not been reported "Stolen"
Receipt proving payment of the vehicle tax (tenencia) for the last 3-4years. Without this receipt, the new owner may be liable for any unpaid taxes.
Facilitators and car brokers oftentimes have access to a fleet of used cars and know the ins and outs of registration in Mexico. If you hire one of our recommended car brokers or facilitators, they will handle the process of registration, taxes, and your license plates. In some cases, they can even help you get your driver's license in the same transaction. They do this for an additional fee, but the money is well worth the convenience.
Don't want to own a car in Mexico? Read our blog on ways to get around in Mexico without a car