With its prime beach location between the Pacific Ocean and the Sierra Madre mountains, it's no wonder that Mazatlan is one of the most popular beach destinations in Mexico. And with a nickname like "Pearl of the Pacific," you know it's beautiful.
However, if you've never heard of it, don't worry! It receives less attention than places like Cancun and Cabo. But that's certainly no reason to rule it out.
Part of the allure of this coastal city is the fact that it's so underrated. This means it isn't overpriced or inundated with foreign investment developers- which is good when considering affordable vacations or places to live in Mexico.
So, if you're planning a vacation or considering moving to Mazatlan, you're in the right place!
Where is Mazatlan Located?
Mazatlan is located on the Pacific Coast, similar to another popular Mexican beach location: Puerto Vallarta. However, Mazatlan is in a completely different state.
Mazatlan lies on the coast in the state of Sinaloa, which is located in western north-central Mexico. Mazatlan is just south of the Gulf of Mexico and east of Baja California.
Sonora, Chihuahua, Durango, and Nayarit border Sinaloa. You may have heard of the state of Sinaloa for reasons other than being home to this prime beach destination.
Weather in Mazatlan
Are you intrigued by the Pearl of the Pacific? Well, a large part of the appeal to many Mexican beach destinations is their year-round warm weather. So, what can you expect from the weather on your next trip to Mazatlan?
Year-round temperatures in Mazatlan vary only slightly. Visitors can expect temperatures ranging from the 60°F to 90°F most of the year.
Like many other popular coastal towns on Mexico's Pacific coast, Mazatlan has rainy and dry seasons. But, surprisingly, the rainy season is also the hottest. This time of the year runs from June-October. So, if you plan a visit during this time, expect lows in the low 70s and highs of 90.
The dry season runs from November to May. Average temperatures during this time are slightly more moderate, with lows in the high 50s and highs in the low 80s. November through March is a safe bet if you're looking at visiting during the prime weather seasons. Temperatures rise slightly in April and May, leading to the "hot" season.
When is the best time to visit Mazatlan?
The best time of the year to visit Mazatlan will largely depend on you and your preferences. For example, December and January are the busiest and most popular times. Mainly because it is the time of the year that enjoys beautiful, dry weather and coincides with the holidays.
But, this also makes it the most expensive time of the year to visit as prices rise on accommodations due to high demand.
If you have flexible travel plans and vacation time, consider other times of the year. For example, the end of October and November are amazing as the weather is good (the rainy season is just ending), and you'll avoid the holiday crowds.
April and May are also great to visit; you'll enjoy lower prices and dry weather. If you're a fan of humidity and heat, you'll love the rainy season. And you'll also benefit from far fewer tourists and lower prices.
Remember that the rainy season runs from June through October. However, the rainfall is moderate. The sun usually comes out in the mornings, and the clouds start to roll in later in the day. So you can expect rainfall or a storm in the afternoons or evenings. That means you can still enjoy what Mazatlan offers, especially if you're an early riser.
If you're ready for a significant life change and are intrigued by the possibility of a lower cost of living, you may consider Mazatlan when looking for a new home. You'd be sure to enjoy year-round warm weather and sun.
How to Get Here
U.S. citizens and Canadians can get many direct flights to General Rafael Buelna International Airport. Or better known as Mazatlan International Airport.
If you can't find a direct flight to Mazatlan, don't worry! You still have plenty of options. Many international flights will connect from larger cities in Mexico, such as Monterrey, Tijuana, and Mexico City.
The airport is conveniently located just 20 kilometers from the center of Mazatlan. Therefore, you can quickly get a taxi to your accommodation from the airport.
While Uber is available in the city, Uber drivers cannot pick up at the airport. So, when leaving the airport, head to the official taxi desk to arrange your ride.
Things to do in Mazatlan
Alright, you've arrived at your beautiful beach destination. Now what?
Mazatlan provides visitors and residents with many options for activities. With just under 500,000, it is the second-largest city in Sinaloa. That means that while you can enjoy the calm of the sea, you'll also have many cultural events and activities in the city.
Top 5 Things to do in Mazatlan:
Visit Old Mazatlan. Spend a day walking the beautiful streets of Old Mazatlan (Viejo Mazatlan). The architecture has a neoclassical, tropical flare. The vibrant colors of the buildings make for perfect photo ops, and palm trees are everywhere. If you're looking for the romantic side of Mazatlan, this is it.
Go to the beach. This is probably one of your top priorities when coming to Mazatlan. You'll have plenty of options within the city and a short drive from the city. Playa Gaviotas, Playa Camaron, and Playa Malecon are all local swimmable beach options. However, those are just a few! We'll break down some of the best beaches in Mazatlán in the next section.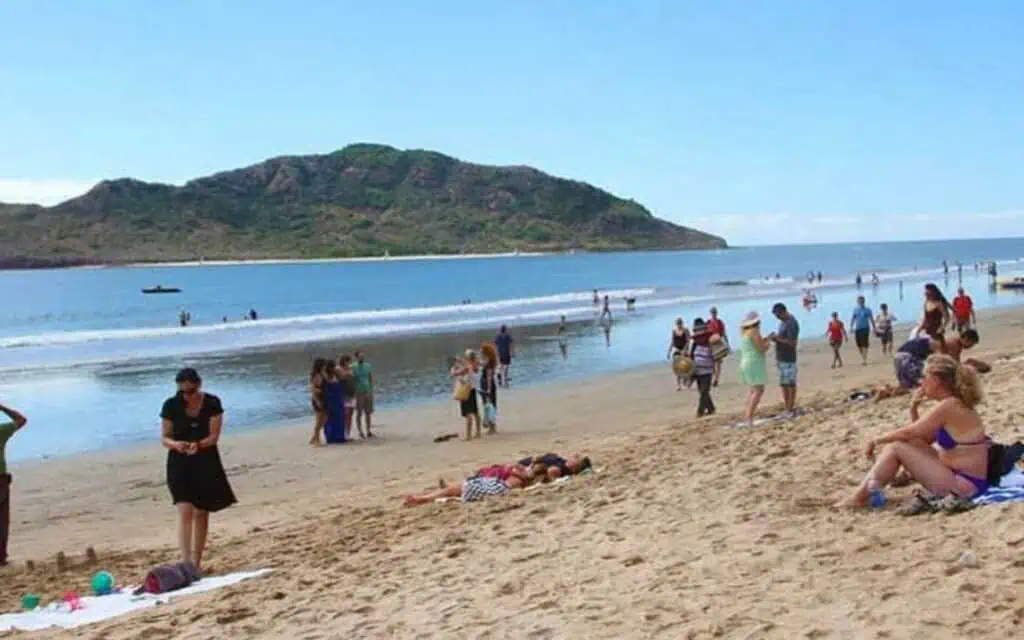 Walk the Malecon. The Malecon is a boardwalk. The Malecon in Mazatlán is quite impressive. It is a 13-mile walk that lines the coast and the city. It begins in the Zona Dorada, passes through Old Mazatlan, and ends in Playa Olas Altas. It's a great place to walk, run, or enjoy the city and the Pacific simultaneously.
Shop in the Zona Dorada. Zona Dorada means "Golden Zone."This is known as the high-end part of town. You'll notice high-rise hotels, big resorts, and a port where the large cruise ships come to dock. While this may feel touristy if you're looking for a more authentically Mexican experience, this area boasts some of the best shopping. It also has some high-end restaurants and nightclubs if that's you're scene.
Check out the Basilica of the Immaculate Conception. Located in Old Mazatlán, this church is a large focal point of the city's historic center. The architecture is impressive from the outside, but even more so if you venture in. Just be sure to respect the services, as this is a functioning church.
Best Beaches in Mazatlan
Enjoying the beach is probably at the top of your priority list if you plan a move or a visit to Mazatlán. With Mazatlán having about 20 miles of beautiful coastline, you'll have plenty of options from within and outside the city.
Best beaches in the city:
Playa Camaron. This beach is one of the most popular in the city. It's located in the Zona Dorada. It's suitable for swimming, body surfing, and boogie boarding.
Playa Gaviotas. Also located in Zona Dorada, this flat beach is excellent for walking. It's also got smaller waves, so it is good for swimming.
Playa Cerritos. As its name implies, this beach is located in Cerritos, just 20 minutes from Mazatlan's city center. It is usually less busy than the previous beaches. However, it's not always swimmable, so be cautious if jumping in.
Playa Bruja. This is one of the best beaches in Mazatlán. It's located north of Cerritos and is a long, sandy, relatively quiet beach. If you go to the northernmost tip, there's often decent surfing. It's probably the best surf spot in Mazatlán.
While there are plenty of beautiful beach options within Mazatlan, some of the most beautiful beaches are outside the city.
Best beaches outside the city:
Isla de la Piedra. This island is accessible via boat from the town. While its name may be slightly deceiving as it's technically a peninsula, it boasts possibly the best beaches in Mazatlan. It's a beautiful, wide beach with small waves, easily swimmable.
Isla de Venados. This is one of three islands just off the coast of Mazatlán. You can get a boat here from Playa Gaviotas. This beach is great for swimming and snorkeling.
Getting Around Town
While walking is an excellent option to get around certain parts of the city (Old Mazatlán), you won't be able to walk everywhere as many of the best beaches are at the far ends of the city. You could certainly rent a car; however, it's not necessary. You've got plenty of options for public transit in Mazatlán.
The most appealing way to get around town is via pulmonias.
This is a decked-out golf cart or a modified, open-air V.W. beetle that functions as a taxi. Not only is it convenient, but it's also a unique experience as these are only in Mazatlán.
There are also traditional taxis. However, neither pulmonias nor taxis have meters. Rates should be fixed depending on the length of your trip, but you should always check when getting in so that the fare upon arrival reassures you. Either way, though, they are pretty affordable options—most trips within the city range from two to five dollars.
Buses are another viable option when it comes to getting around Mazatlán. They will also be the cheapest, with trips at about thirty to fifty cents, depending on the type of bus.
Unlike some other beach towns in Mexico, Uber is available in Mazatlán. As mentioned earlier, Uber drivers cannot do airport pickups; however, they are available throughout the rest of the city.
What's the food like in Mazatlan?
One of the best ways to experience the local culture of a new place is by eating the dishes. In that respect, Mexico doesn't disappoint with its mouth-watering cuisine. However, dishes will vary largely depending on the region.
It may be no surprise that Mazatlán is most known for its seafood dishes. And being right beside the ocean, you'd miss a culinary opportunity by not trying some of these specialties.
Shrimp is especially popular in Mazatlán. Try the coconut shrimp to truly embrace the tropical and coastal food offerings. You'll also find many dishes featuring fresh fish, ceviche, and fish tacos.
You'll also find plenty of options for Mexican classics in the city. Try eating at one of the many street stands. There will be plenty of tacos to choose from for your next meal. If you're vegetarian, try elotes- a corn on the cob with hot sauce and cheese.
Is Mazatlan Safe?
Sinaloa tends to be on the state department's list of places with travel advisories for U.S. Citizens. Visit the state department's website to learn about the travel advisory in effect for Sinaloa. Many long-term residents have noted that the incidents of violence in Mazatlan have been isolated, but it's always best to express extra caution when making travel plans.
Because of Mazatlán's dependency on tourism, the local authorities do their best to keep locals and tourists safe.
Want to Visit Or Move to Mazatlan?
Mazatlán is a popular destination for ex-pats, retirees, and Mexicans alike. Whether you're planning a vacation or a move, Mazatlán should undoubtedly be in the running. Although it provides many luxuries of a beach resort town, you can also find the local Mexican charm. In recent years, it's also become a hub for creativity, attracting a younger generation. This means that there are great cultural events to attend.
And what better way to explore Mazatlan as a possible place for living in Mexico than a private Mazatlan Relocation Tour. It's a great way to sit back, explore, learn and see if living in Mazatlan is right for you.
But if you're new around here and wondering if Mexico is right for you, I suggest signing up for our free 10-Part Email Series. We'll advise you on what to expect when moving to Mexico. We give you our expert tips and advice on what it's like to live in Mexico.