Huatulco is nestled on Mexico's wild Pacific coast, surrounded by a Mexican jungle, the Sierra Madre mountains, and the Pacific Ocean. Huatulco's natural beauty makes this coastal community a bucket-list Mexican destination.
La Crucecita and Santa Cruz are the main towns, and the rest of the area is divided into alphabetized neighborhoods called "sectors."
Home to one of Mexico's largest national parks, the Huatulco National Park, this area protects the jungle and ocean surrounding the bays, keeping the reefs healthy. So whether you are looking for your next family vacation or a place to settle down, keep reading to learn why this is one of the best places in Mexico!
Where is Huatulco?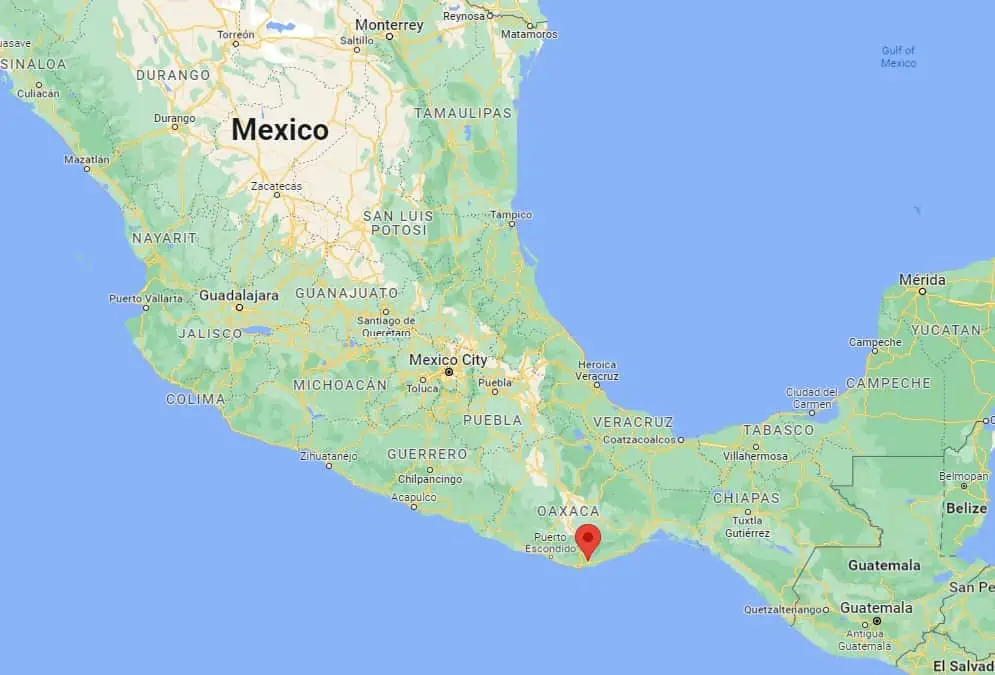 Pronounced wah-tool-co, Huatulco is not a town; it's the name of a region on Mexico's Southern Pacific Coast, in the state of Oaxaca. However this area is short for Santa Maria Huatulco. But the touristy area is Bahias de Huatulco aka the Bays of Huatulco.
The Bays are a natural wonder of nine pristine, naturally forming coves and more than 36 natural beaches. Because this region faces south, not west, it is protected from inclement weather and strong currents. 
The population is around 50,000, and most people live in the core towns of Santa Maria Huatulco, La Crucecita, and Santa Cruz Huatulco. The rest of the region comprises small rural communities and the massive Huatulco National Park.
Oaxaca is Mexico's second-most southern state. Only Chiapas separates Oaxaca from Guatemala! Its distance from the US is why fewer people have discovered this coastal gem.
Part of the city's charm is its remote location. Lying between the mountain jungle and the Pacific Ocean, you can drive in any direction away and experience different geography, ecosystems, and even climate. 
Video- Why We Love Living in Huatulco
Weather in Huatulco
If you like hot and humid climates, this is the place for you!
The weather here is hot all year round. Humidity is the most notable change from one season to the next. You will notice the air only cools down slightly in the evenings.
Most tourists come in the winter months to escape the cold from the northern parts of the world. Winter temperatures range from 28°c /82°f to 32°c /90°f during the day and can get as cool as 22°c /71°f overnight.
Hottest Month: May – avg temp 29­°c /84°f
Coldest Month: January – avg temp 26°c /79°f
The area has a distinct dry and a rainy season. The dry season starts in November and goes until the first rains come at the end of May or early June. The heaviest rains are usually in July and September.
Earthquakes
The region is susceptible to frequent, small earthquakes since Oaxaca lies on the intersection of 3 fault lines, making for much seismic activity!
Huatulco experiences frequent earthquakes throughout the year, but most go unnoticed. It is rare to have an earthquake that does significant damage, but the rumblings can take some getting used to!
When Is The Best Time to Visit?
The best time to visit is in November – March. These are also the busiest months in Huatulco, but it's also when there are the most activities, things to do, and the weather is most tolerable.
Winter is also the most popular time to visit, so it's the most expensive. The most affordable time to visit is in the summer, between June and September.
Visiting during the off-season is still great, but you can expect some instability. Many restaurants close for the low season, and many tours are not operating. . As a result, you will find Huatulco to be much quieter this time of year, but that's not necessarily a bad thing.
The region changes a lot in the rainy season. And even though it's not raining all the time, areas of Huatulco are washed out by the temporary rivers.
If you are considering living in Huatulco, it's best to visit at several different times of the year to get a feeling of what every season is like!
Getting Here
There is an International Airport (HUX), so getting to Huatulco can be easy if you can get a direct flight! For example, many airlines from Canada and the US have direct flights in the high season.
You can get direct flights to major Mexican cities all year round. For example, Mexico City flights run several times a day, and flights to Tijuana are popular with anyone from southern California.
You can get a private taxi, a private transfer service, or a collective taxi to your accommodations from the airport. The drive from the airport to the main town of La Crucecita takes about 20 minutes.
A taxi from the airport to La Crucecita costs about MXN500 or USD25. And a seat in the colectivo is MXN190 or USD10.
Huatulco, Mexico is connected by ground through bus lines and private van services. An ADO bus station downtown connects the area to the rest of southern Mexico, as well as smaller bus lines and private transfer options from nearby cities like Puerto Escondido or Oaxaca City. 
Getting Around Huatulco
Bahias de Huatulco is big, so figuring out a good means of transportation is important. When deciding how you want to get around its important to keep in mind:
The weather
Your budget
Your comfort level
If you are staying in the central sectors near La Crucecita or Santa Cruz, most people enjoy walking or will rent a bike for their time here. It's a beautiful and fun way to get around, but not everyone can handle walking in the heat.
Although we recommend getting around by taxi, taxis are safe, and the rates are set beforehand, so you won't have to worry about negotiating rates. The base fare for a taxi is MXN35 or USD1.50 and will get you between La Crucecita and Santa Cruz or Chahue. After that, the rates increase as you go further from the core. 
Or you could also rent a car. Renting a car can be a great option if traveling with more than 3 people, since fitting in a taxi can be difficult. 
There are only a few busy roads and only 3 traffic lights! But you do need to have a relaxed attitude. Things move slower, so be patient and pay attention when behind the wheel. And a fun fact: many tours include transportation if you book events or activities. These drivers are professionals and know the nuances of the roads and driving in the area. Traveling with a tour group or a taxi driver is the safest way to get around Huatulco.
Things To Do In Huatulco
Huatulco is an outdoor adventurer's dream.Between the wild Pacific Coast and the jungle of the Sierra Madre mountains, there are countless things to do and places to explore!
Some of the best things to do are:
Take a boat tour of the bays
Snorkeling or scuba diving
Mountain biking in the national park
Visiting the Zapotec ruins in Copalita
Spending a day at one of the waterfalls
See a coffee plantation in the mountain town of Pluma Hidalfo
Birdwatching
Take an Oaxacan cooking class
Try surfing
And so much more!
If you are not interested in adventure, that's ok! You could go to a different Huatulco beach every day and do nothing but relax during your vacation days away.
Huatulco Food
Oaxaca is world-famous for its delectable and unique cuisine, and Huatulco is no exception. You can find Oaxacan staples like mole and tlayudas in any local restaurant.
Thanks to its growing international community, the international cuisine in Huatulco is thriving. Therefore, you can easily find great Italian food, pizza, and even some Thai restaurants.
But like most places in Mexico, the best food comes from street vendors. So never hesitate to snag some tacos, street corn, ice cream, a burger, or any of the various snacks you'll find just walking around the town.
There are differences between the food in Huatulco and the rest of Oaxaca. The climate in the mountains is much cooler and drier, so the bread is different, and you can enjoy the famous Oaxacan chocolate everywhere.
Thanks to its proximity to the coast, Huatulco has a lot of seafood! Fishing is big in Huatulco, and the locals catch a lot of:
Mahi Mahi
Sailfish
Marlin
Octopus
Oysters
Lobster
Shrimp (comes from Salina Cruz)
Small crabs
You'll enjoy these delicacies based on their season.
Healthcare
This category is where you see the drawbacks of living in a small town.
Huatulco has good access to most basic healthcare and extended healthcare providers, but emergency and specialty care providers are not always readily available.
This is a particular issue for retirees who are moving to Huatulco. A good medical insurance plan is necessary, as expenses can quickly increase. See our guide to medical care in Mexico for more tips on how to stay healthy in Huatulco.
FAQs
Do you need to speak Spanish in Huatulco?
No – while it helps to know a little, you can navigate your time in Huatulco with patience and some help from Google Translate.
Most hospitality workers in Huatulco, Mexico speak at least a little English, but everyone is very kind and patient and will help you get where you're going.
Do you need pesos in Huatulco?
Yes – you will need cash in Huatulco, and only pesos are accepted.One or two businesses mightt accept USD, but it is highly unusual.
Many places will accept credit cards, but the internet and cell services in Huatulco are not reliable so do not expect it.
Keep in mind that credit card service fees and exchanging currencies are expensive for the locals, so you will find that everyone always prefers cash.
Is Huatulco Safe?
Huatulco is considered one of the safest places in Mexico.Of course, common Common sense always applies, but you will feel safe walking the streets alone and going out at night.
Incidents are most likely to occur in crowded places like beaches and bars, so always be self-aware, don't carry too much cash, and try not to leave your things unattended.
The water in Huatulco is generally safe, and many of Huatulco's beaches are great for swimming and snorkelling. But some beaches can be prone to rip currents. Chahue and La Bocana are two examples of beaches that are not safe for swimming.
Most beaches will have an alert if it's not safe, but use your judgment before going too deep in the water. Especially since very few beaches have lifeguards on duty.
Final Thoughts on Huatulco
Huatulco is a gem on the coast of Oaxaca that is quickly growing in popularity. Its beautiful geography, pristine beaches, and friendly community have made it a popular destination for tourists and retirees from other countries.
If you are looking for a unique destination in Mexico, check out this place. Its endless activities and safe community make it perfect for families, solo travelers, and everyone. And if you're looking for a unique beach town to call home, we highly recommend going on a Huatulco Relocation Tour.
For those looking to move to Mexico, you can see why Huatulco is on our list of best places in Mexico to live! The charm of this small coastal community has wooed countless others, and it's sure to steal your heart as well.