Located on the coast of Oaxaca state, Puerto Escondido is one of Mexico's most rapidly growing tourist destinations.
Its name, which means hidden port, is deceiving as more and more people are coming to visit. And, with its pristine beaches, famous pipeline, and abundant nightlife, it's no surprise that it hasn't stayed hidden.
Puerto Escondido may be the perfect destination if you're more interested in having your feet in the sand than staying in a fancy, all-inclusive resort. Although it's experienced a rapid increase in population and tourism in the past couple of years, it still maintains its laid-back charm.
Where is Puerto Escondido located?
Puerto Escondido is located in Oaxaca on the Pacific Coast of southern Mexico. It is nestled between two other popular beach destinations, Acapulco and Huatulco.
Since Mexico is such a large country, it is rich in different cultures, food, landscapes, artisanal works, and indigenous languages. While every corner of Mexico has its cultural uniqueness, Oaxaca is often referred to globally as Mexico's cultural epicenter.
Puerto Escondido is primarily known as a port town or surf spot. However, many find the state's capital city, Oaxaca, much richer in culture.
Oaxaca City is only about 130 miles from Puerto Escondido, but, having to navigate through mountainous terrain and damaged roads, the drive falls anywhere from 6-8 hours. However, that's not to say that there aren't cultural treasures in this seaside city. But, unfortunately, you may have to dig a little deeper to see them.
Getting to Puerto Escondido
Arriving in Puerto Escondido by plane is now easier than it ever was. The Puerto Escondido International Airport offers travelers and residents various travel options. It is a five-minute taxi ride, about 3km from the center, Bacocho, and Rinconada. From La Punta or Zicatela, it's about a 15-20 minute drive.
Flights arrive from and depart to various cities in Mexico from five different airlines: Aeromar, Aeromexico, Aerotucan, VivaAerobus, and Volaris.
Most flights are to and from Mexico City. However, you can also find domestic nonstop flights to other cities such as Oaxaca and Tijuana. Other popular flights from Puerto Escondido go to Guadalajara and Cancun but usually have a stop in Mexico City.
What Is The Weather in Puerto Escondido?
If you don't enjoy hot and humid weather, then Puerto Escondido may not be the place for you. The heat is year-round, varying only slightly throughout the year. The range is usually 72F-95F. The most comfortable time of the year is December and January. The hottest months are March-May.
There are two seasons in Puerto Escondido: rainy and dry. (le seca y la lluviosa)
The rainy season goes from May to October. This season coincides with some of the biggest waves of the year. However, while the rains can be heavy, it usually only rains in the evening and at night, with sunshine during the day. So, generally speaking, you can enjoy a day of lounging on the beach or poolside year round.
Relying on air-conditioned stores and restaurants isn't an option in Puerto Escondido. Only a couple of places have air conditioning. Most restaurants are open-air, which is in large part the appeal of this town. More and more rentals have adapted to luxuries such as AC over the past few years; however, it is not the norm, which gives Puerto Escondido its laid-back beach vibe.
Before booking your accommodation, we recommend double-checking amenities like air conditioning, fans, and hot water.
When Is The Best Time To Visit Puerto Escondido?
The best time of the year to visit Puerto Escondido will depend on what you're looking for.
If you're into surfing, the biggest waves are usually April- September. Many surfers looking to try their luck with the fast, brutal wave of Zicatela (Mexpipe) are drawn to this season.
Puerto Escondido hosts an international surf competition in November.
However, locals and tourists can head to Zicatela beach most mornings during these months and catch an impressive show of surfers taking on waves of 8-10ft. With swells, they can be even bigger. While not necessarily a competition or event, it's sure to impress.
If you're looking for calmer waters, you'll find it best to visit from November through January. However, remember that Puerto Escondido isn't known for its swimmable beaches. This means many popular beaches year-round have currents and dangerous swimming conditions.
And if you love nature, you may be attracted to visit during the best whale-watching months. It's not uncommon to see these playful creatures breaching and flopping about on the coast of Puerto Escondido. The whale watching season goes from November to March. Many local tour agencies offer boat tours to see the whales and other wildlife up close. Year-round visitors can take one of these tours and see dolphins, sea turtles, and manta rays.
Best Things To Do in Puerto Escondido
Puerto Escondido first drew international attention for its surf. However, now there is much more to do here than catch some waves and chill in a hammock (although that's still a legitimate option for those seeking it).
Enjoy Nature
There's plenty of natural beauty to enjoy in Puerto Escondido. This place has beautiful beaches. However, the beautiful Oaxacan mountains serve as the coastline's backdrop. You can find hiking, biking, and adventure tours that explore this "hidden" attraction.
Laguna Manialtepec is just a 45-minute drive from Puerto Escondido.
This lagoon is famous for kayaking and birdwatching. However, by far, the most popular attraction is its bioluminescence waters. At night tours are offered to take visitors swimming in the glowing waters at nighttime. The bioluminescence phenomenon is brightest when the sky is its darkest (basically, you won't see much on a night with a full moon).
Visit The Beaches in Puerto Escondido
It would be a waste to visit Puerto Escondido and not take full advantage of the city's beautiful and varying beaches. There is undoubtedly a beach for every vibe. So, the perfect spot will vary depending on what you're looking for from your beach day.
Let's break down the beach options:
Playa Bacocho. This beach isn't the best swimming option as it often has big waves and strong currents. However, with little development on its coastline, it's a beautiful place to enjoy the day. Bacocho is also known for its baby sea turtle release. A local organization allows visitors to release a baby sea turtle into the ocean as part of its conservation efforts. It's an extremely cool and cute experience.
Playa Coral. Located just over the rocks from Bacocho, Playa Coral is a beautiful little cove. The waves can get big here. However, it's usually an excellent beach for swimming. You'll find many locals and tourists alike enjoying a laid-back day in the sun here.
Playa Carazilillo. If you've googled images of Puerto Escondido, then you've likely seen the view of Playa Carazillilo taken from atop its entrance stairs. This beach is an even calmer cove than Coral, where you can easily swim. It's also home to sea turtles, so keep your eyes peeled when swimming! It's also a great place to learn how to surf, as the waves are smoother than in other parts of town.
Playa Manzanillo. Continuing down the coastline, you'll find two beaches: Playa Manzanillo and Puerto Angelito. Puerto Angelito is a port where many tourist and fishing boats dock. Right next to it is Playa Manzanillo. It's good for swimming and has a family-friendly vibe. There are plenty of beachside restaurants where you can enjoy drinks and fresh seafood.
Playa Principal – is the main port in Puerto Escondido. If you want to see how the fishermen get these boats in and out of the water -an old-school method involving lots of pushing and wooden planks. Many local families come here on the weekends for a beach day; however, it's more of a port vibe than a pristine beach.
Playa Zicatela – is the beach that is famously referred to as "Mexpipe." Here's where you want to come to watch some of the best surfers take on one of the biggest and fastest waves in this part of the world. It's a long beach that connects to La Punta. It's excellent for long walks or runs. However, we don't recommend swimming in it since it has large waves and many currents.
Playa La Punta. If hoola hoops, fire performers, and techno music are your vibes, this is the beach for you. This part of town is known for its wild parties, hip shops, and "calmer" surf. The break is great for those not ready to take on Zicatela or just hoping to learn. But be cautious, as big waves and strong currents can also be here.
Eat Some Food
With the growth of this coastal beach town has come more dining and nightlife options. Where once you were limited to a few local spots with domestic beers and tacos, you can now have your pick from street stands to fine dining.
You can find the most variety of restaurants of all different styles in La Punta, a hippie-chic enclave beyond Zicatela. It doesn't matter if you're vegan or vegetarian since many restaurants have options. And if you're looking for international food, you'll find cuisines from Peruvian ceviche to Italian pasta and pizza. And, of course, you'll also find plenty of Mexican food.
There are also many options on the other side of town in Rinconada, the main strip with stores and restaurants behind the neighborhood of Bacocho. Prices in both La Punta and Rinconada will be more expensive than in more local spots and neighborhoods.
Suppose you want something more traditional, local, and inexpensive. In that case, you'll have to venture to the less touristy places of town– although, if you look hard enough, you can still find affordable options everywhere that aren't a main tourist street.
In the center, the Mercado Benito Juarez has many local restaurants with traditional Mexican food, from huevos rancheros (eggs in a red sauce) to mole con pollo (traditional, rich sauce with chicken).
The ambiance is that of a bustling market. Places in the center of town or off the main tourist paths will be the most affordable (and often the tastiest) for authentic Mexican food.
Most popular neighborhoods in Puerto Escondido
Similar to the beaches, the neighborhoods and their general vibe vary greatly. This makes it great for those hoping to live in Mexico, as you can hop around or find one that feels like you. If visiting, consider neighborhoods closer to the beaches or attractions that interest you. Because while it's easy to get around in Puerto Escondido by colectivos, taxis, and walking, it's always convenient to be closer to the beach-especially with the heat.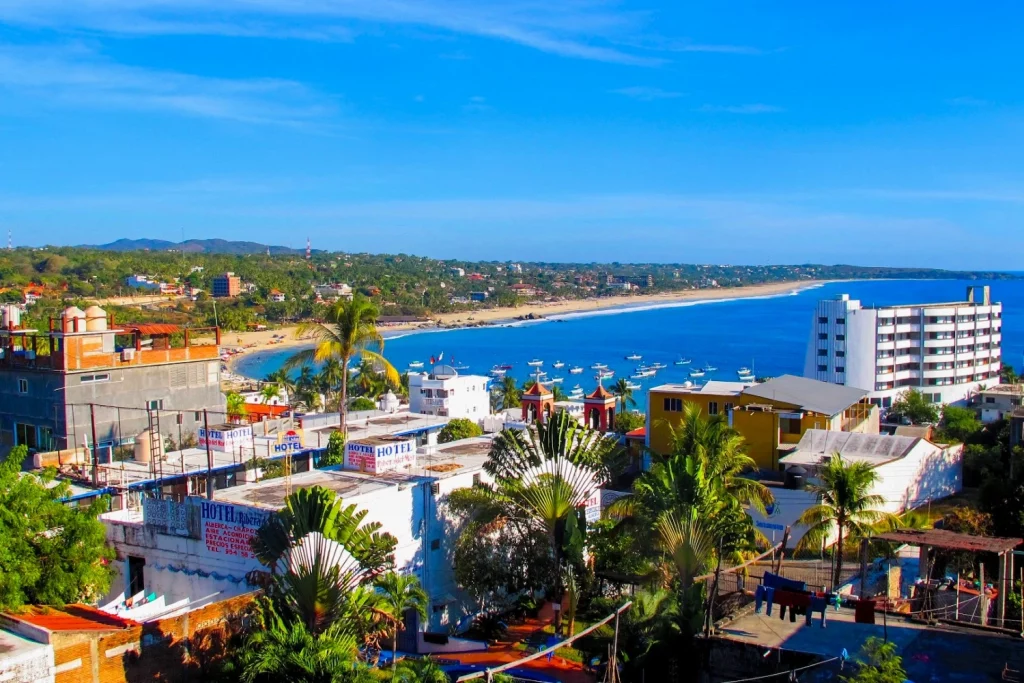 Here are some of the most popular neighborhoods for tourists and residents:
La Punta– Similar to the beach, this part of town is known to be a bustling pub of young travelers and residents leading an "alternative" lifestyle. What just years ago were dirt roads with simple shops now houses some of the fanciest boutiques and restaurants in town.
Zicatela- This strip along the beach has many little shops and restaurants. Most of the restaurants lining the beach side have a sand floor and palapa that let you truly lean into the tropical lifestyle. There are some hotels on this strip as well. Brisas de Zicatela (just past the main strip) is a convenient jumping point to stay in between La Punta and Zicatela.
Bacocho– The neighborhood of Bacocho is much more residential. You will find few restaurants or bars in this neighborhood. However, they are just a quick walk away in Rincondada. This is known as a "nicer" part of town.
Rinconada -This street is famous for its shops and restaurants and because it's right above one of the most popular beaches, Playa Carazilillo. You can find apartments for rent here, but expect to pay a premium for the location.
El Centro– While not exactly a popular place to visit, this part of town reminds you that you're in Mexico. You'll find the market and many locales to eat at affordable prices. Apartments for rent are also more affordable in this area since it's a long walk or drive from the beaches than the other neighborhoods listed.
El Adoquin- Located just behind Playa Principal, this is another common touristic zone. The street becomes pedestrian-only in the evenings, and vendors line the streets with souvenirs and artisanal items. Here, you can also get some of the biggest micheladas (beer mixed with lime, salt, hot sauce, and tomato or clamato juice). The neighboring zones have apartments and rentals that line the coast.
If you rent long-term in Puerto Escondido, here are some tips for finding the best rentals in Mexico. You probably won't find the best deals online and will need to do some legwork upon arrival for the best places at affordable prices.
How to get around town
You've got many options for getting around town in Puerto Escondido. Getting from one end of the town to another in a taxi will take about 20-30 minutes, depending on traffic and exact location. Taxis are available. However, they have become increasingly difficult to hail. If you plan on using taxis as your main form of transit, feel free to ask the driver for their contact. Unfortunately, Uber is not available in Puerto Escondido.
Colectivos are the cheapest option to get around as they only charge 8 pesos for a ride. These are community vans or trucks that go to most parts of town and make frequent stops. Buses are also available, but colectivos are quicker and easier if you choose between the two.
You'll notice many motorcycles and scooters all over town. It's one of the easiest, albeit not the safest, ways to get around.
You can find many affordable daily, weekly, or monthly rentals. Renting a car is also available but is pricier than scooters. However, they're convenient if planning on venturing outside the city, as the terrain can be tricky for scooters or motorcycles.
Can someone get by with English only?
If you plan to visit, live, or retire in Mexico, you should start working on your Spanish. Learning Spanish will allow you to better connect to the local culture and people. You'll notice a huge, positive shift in your interactions.
That being said, you could get by in Puerto Escondido without speaking Spanish. Many doctors, schools, and establishments will now cater to English speakers.
But you must know at least basic Spanish for the most important things, such as legal issues. It'll come in handy when navigating Mexican bureaucracy and understanding the ins and outs of Mexican residency.
Visiting Puerto Escondido
Puerto Escondido is truly a unique gem of the Oaxacan Coast. For this reason, it makes sense that it couldn't stay hidden forever. With such a rapid increase in tourism and residents within the past couple of years, Puerto Escondido is at a developing point.
Luckily, many local organizations are taking action to ensure Puerto Escondido grows sustainably. If you plan to visit Puerto Escondido, ensure you practice responsible travel and sustainable tourism. If you decide to make Puerto Escondido your home, get involved with the local movements that aim to protect this rapidly expanding tourist town. You'll be a part of a great community working towards keeping Puerto Escondido a beautiful, sustainable paradise.
And if you are still determining what it takes to move to Mexico, sign up for our "Living in Mexico 10-part email series" that will give you all the details and expert advice about what it takes to live in Mexico. After all, when making such a significant life change, you want to ensure it's the right move for you!