You're probably wondering how to open a bank account in Mexico if you plan on living and paying bills there. Fortunately, navigating the banking system in Mexico is pretty straightforward, like in the U.S.
However, it can seem a little daunting when you don't know where to start or decide if you need a bank account in Mexico. Keep reading to help you consider if you need a Mexican bank account. Once you decide if you need one, I'll cover how you open a bank account in Mexico.
Why You Need To Open A Bank Account in Mexico
Having a bank account in the U.S. or Canada won't be a problem if you plan to live in Mexico. However, having a Mexican bank account can make things easier for you, especially if you plan to live there long-term. In Mexico, ATMs sometimes run out of money and if you are paying your rent in cash, it can be a problem and a nuisance.
Here are some benefits of having a bank account in Mexico:
Being able to set up essential services like utilities, a cellphone plan, and internet.
Some landlords will require payment through a local bank transfer. Paying cash may not be an option.
Save money on international withdrawal fees from any ATMs you are withdrawing money from. (Unless you have a bank account that doesn't charge for international withdrawals, such as Capital One 360 or Charles Schwab)
Many retailers only accept bank transfers or cash. You'll either need to withdraw a large sum for expensive purchases or have a Mexican bank account. (You can't always pay with your credit card.)
Sometimes, Mexican insurance companies will only make payouts to a Mexican bank account.
Being able to buy things through online retailers like MercadoLibre or Amazon Mexico.
Having a Mexican bank account will help you establish a financial history in the country. This will be useful later if you apply for loans and credit cards that require a credit history.
If you want to send yourself a large amount of money, you'll need a reliable bank account to safely and economically do so since services like Western Union will eat a large chunk of your cash in commission fees.
On the other hand, I know people pay with cash or their credit card for one or all of these services. They have never opened a bank account in Mexico and have zero fees for withdrawing money from an ATM in Mexico.
Most people who choose to keep their banks in their home country as their sole bank have found that they get a better exchange rate from their bank back home. Plus, it might be the best option if you don't get charged on international ATMs or international transactions.
However, if setting up services such as utilities or your rental situation requires it, here is what you'll need to know about opening a bank account in Mexico.
*Tip: When withdrawing from an international ATM, check your home country's exchange rate and the local bank exchange rate. If your home bank's exchange rate is better, which it usually is, make sure you decline the local banks' exchange rate when the ATM asks.
Documents You'll Need To Open A Bank Account in Mexico
To open a bank account in Mexico, you'll need to have temporary or permanent residence at the very least. And yes, I know some people get away with opening a bank account on an FMM tourist visa. However, this is the exception and not the rule. Don't assume you'll automatically have such luck. In some cases, I have heard of tourists opening a Mexican bank account in San Miguel de Allende and Puerto Vallarta —  both concentrated ex-pat communities.
Most banks have the same requirements, but it's wise to check with your desired bank for a detailed list of documents you'll need to bring.
Here's what you'll need to open an account at most Mexican banks:
Temporary or Permanent Resident Card
RFC (a Mexican taxpayer ID)
Passport
Proof of address in Mexico (a recent utility bill or internet bill with your name on it)
at least MXN 1,000 (yes, it needs to be in pesos.)
Many banks require you to have a Mexican phone number
Translator (most banks only have paperwork in Spanish.)
(Interested in knowing the process of residency in Mexico? Read this article.)
Some banks may have an English-speaking banker to help translate some of the paperwork. However, I wouldn't count on this. Come prepared to understand the paperwork you have to fill out. If you are uncomfortable with this, bring someone who can translate for you. This is one of the many reasons why learning Spanish should be a priority when moving to Mexico.
Once you open your bank account, you'll most likely be given a debit card on the spot. Ask your banker for details on how many withdrawals you can make without penalties. Make sure they explain the fees for withdrawals (if any) and how you can change your PIN.
Is Your Money Protected?
The Instituto para la Protección al Ahorro Bancario (IPAB) is the country's deposit insurance for account holders in Mexico. It insures up to 400,000 UDIs (Unidad de Inversión).
The equivalent of $3,138,036 pesos for each account (as of September 2023).
ATMs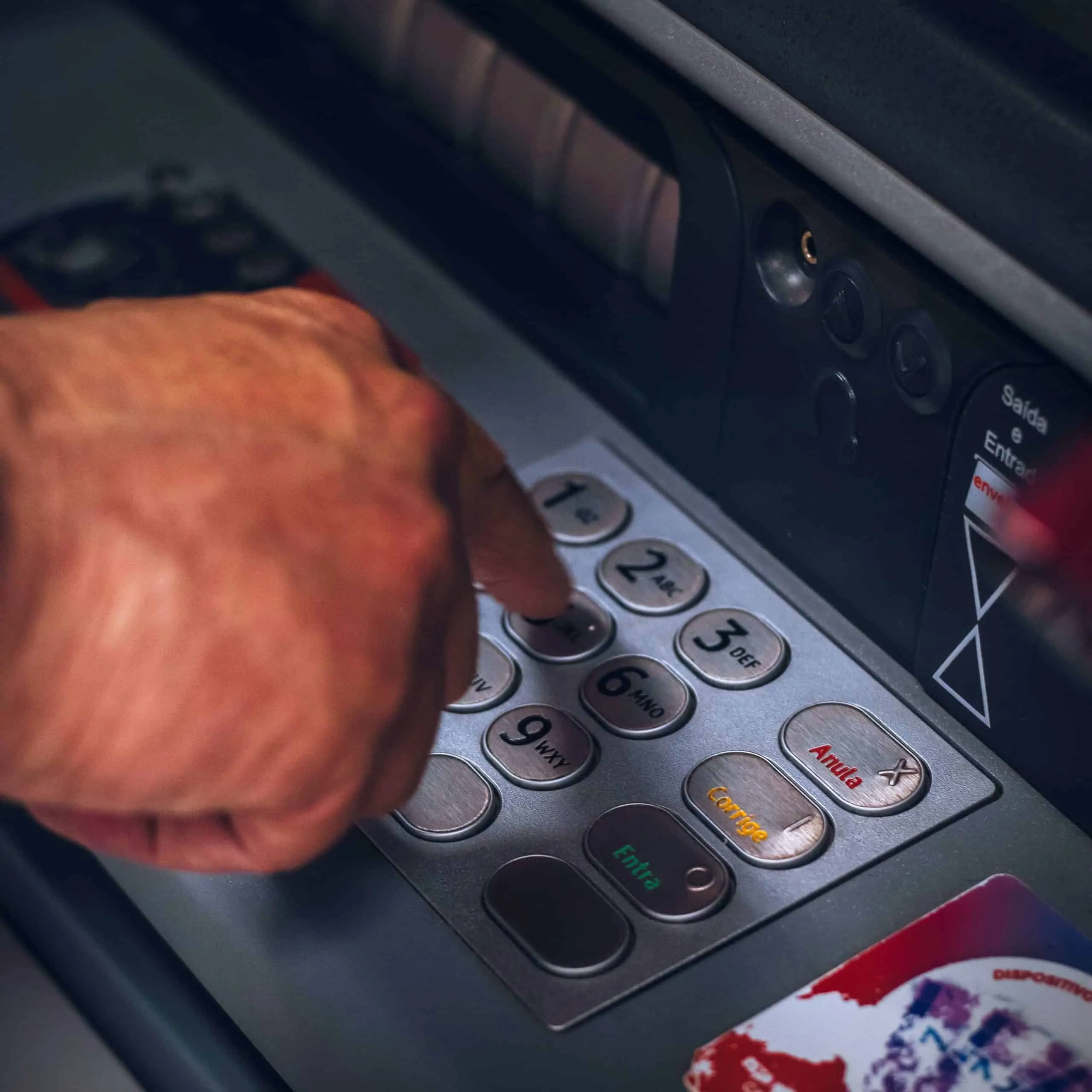 ATMs are the most convenient place for you to get your pesos. Cities and larger towns will have multiple ATMs. However, smaller towns and villages probably won't have ATMs or banks.  ATMs also have daily limits for withdrawals, so plan accordingly. 
One cautionary piece of advice is to always be aware of your surroundings when using ATMs in Mexico. As a general rule, don't go to ATMs alone or at night.
It is not unheard of for criminals to lurk around ATMs waiting for an opportunity. Many ATMs have a locking mechanism that only allows people with a debit card to enter the ATM area. If you see someone hanging out in this area without using an ATM, it's best to walk away.
Types of Bank Accounts in Mexico
As a foreigner, you will most likely open a checking or savings account. However, other types of bank accounts are available, such as investment accounts. Make sure you know what kind of bank account you are opening when you go to the bank. You can find most of the important details about each bank's accounts on their websites.
Checking Account, aka Cuenta de Cheques
If you will only use the account for everyday banking transactions, a checking account should be sufficient.
At some banks like Santander, there are two types of checking accounts. For a basic checking account, your monthly deposits must be less than MXN 18,000 (approx $1000), and you benefit from having a more minor minimum balance requirement to avoid fees. However, you are limited to six free withdrawals per month. At the same bank, there is an additional checking account, Super Cuenta, for deposits larger than MXN 18,000. The benefit of this type of account is you don't have a limit on monthly withdrawals.
Most Mexican banks will ask for a minimum deposit of MXN 1,000 to open a checking account. Depending on the type of account, a minimum balance is needed to avoid fees. ATM withdrawals are usually free of charge from your bank's ATM. (However, some banks have a maximum number of withdrawals a month. Make sure you ask.) Otherwise, withdrawals are allowed from other ATMs at an additional charge.
Savings Account, aka Cuenta de Ahorros
Cuenta de Ahorros, or Savings Accounts in Mexico, work very much like savings accounts in the U.S. and Canada. Most banks limit how many withdrawals you can make a month. At some banks, your money must remain fully in a savings account for a grace period. Check with your bank before opening a bank account, as this could mean you will not have immediate access to your cash. The plus side of this account is the higher interest rate paid out to you.
Intercam Is The Winner for Expats
Mexico is a country where bureaucracy meets paperwork. Banks are no exception. But why do I bring that up? Well, many banks in Mexico, like Bancomer, BBVA, Santander, and the like, give expats a hard time opening their bank accounts. For example, some banks want you to be a permanent resident or national. Other banks allow both temporary and permanent residents.
Some banks don't allow joint bank accounts.
However, one bank stands out among the rest as the one with the least hassles and the easiest to open a bank account in.
This is Intercam.
The only downside to Intercam that I know of is that they don't have locations and ATMs all over Mexico as the other popular banks do. But if you do all of your transferring online or live near one of their locations, it's one of the best options due to its variety of products and services designed for foreigners and a good reputation for customer service.
Banks in Mexico with American Affiliates
Although affiliated, banks in the U.S. with branches in Mexico are separate entities, so you may not be able to automatically open an account in Mexico if you have an account with one of them in your home country. However, you may be able to take advantage of some similar banking options and reduced ATM fees.
These are a few of the ones I know of:
What If You Don't Have A Mexican Bank Account?
But what if you're just spending a few days or weeks in Mexico and don't want to open a bank account? How do you access a large amount of money, then?
I've mentioned in this previous blog about a widely popular service known as Wise.com. If you have a bank account in the U.S. and need to send money to Mexico, using a service like Wise.com is a safe and reliable platform with some of the best exchange rates and lowest fees.
It is extremely easy to use. You can even transfer money from an app on your phone and check the exchange rate before committing to initiating a transfer. What I love about Wise is its transparency. They'll give you a side-by-side comparison of their exchange rates and fees compared to other money transfer services. In some cases, Wise may not be the cheapest option, and they'll let you know that upfront if it's the case.
Whenever I use Wise to send money to Mexico from my U.S. bank account, I have access to it within 24-48 hours. It is very important to know in case of an emergency!
Need a Facilitator To Help You Open A Bank Account?
I know this dance all too well. You have all your paperwork in order, go to the bank, and you're still denied a bank account. Your basic Spanish and the banker's basic English make it even harder for you to fully communicate what it is you need.
If you aren't fluent in Spanish, I recommend hiring a local helper who speaks the language, understands the culture, and can go with you to open a bank account. This is especially true in less popular expat towns where the banker may not be used to dealing with foreigners daily.
In our Complete Mexico Relocation Guide, you'll get a directory of facilitators in the most popular cities who can help you open a bank account, among other things.