You might be doing some homework online trying to figure out what kinds of documents you need to come to Mexico. Then you read that you'll need an FMM visa to enter. And you're probably wondering, "what's an FMM, and do I need one?"
I'll answer that for you! 😀
What Is An FMM?
An FMM stands for Forma Migratoria Multiple, which essentially translates to Multiple Immigration Form. An FMM is a type of visa exclusive to tourists who come to Mexico from either the northern or southern border. However, if you're coming in as a resident with the intent of processing your residency card, then there are additional steps you need to take. I cover that later.
You can get one if you are entering Mexico by land, or air. If you are flying, your airline usually supplies you with the form either before departing or arriving in Mexico. Your airline includes this fee on the cost of your ticket. 🎫
If you are traveling by car or walking across the border by land, you need to process your own FMM tourist visa at the border or buy it online ahead of time.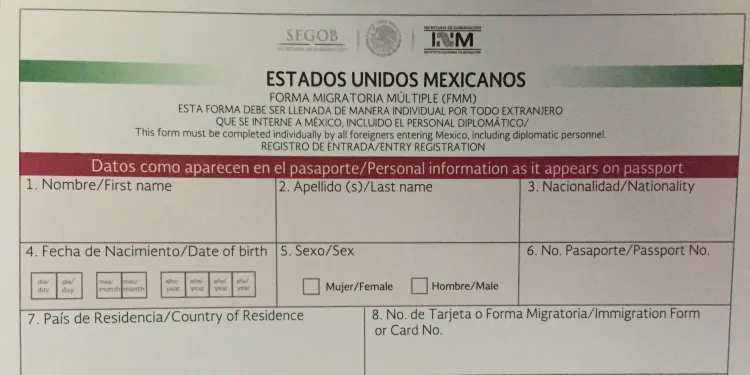 Who Needs An FMM?
Any tourist from a NO VISA required country needs to process an FMM in Mexico. Even if you are coming to Mexico as a temporary or permanent resident, you need to process an FMM- however your steps are different. More on that further down.
There is a misconception that if you stay within the free zone near the border or only travel into Mexico for less than 72 hours, you do not need an FMM. However, this is not entirely accurate.
If you are entering Mexico, regardless of distance or duration, you need to process an FMM either at a border or at immigration stations at airports or sea stations. It just so happens that people who live near the border tend to never apply for an FMM when they come into Mexico. But you are actually entering Mexico illegally and can either be fined or end up being deported.
How Much Does It Cost?
As of 2021, the fee for an FMM is $687 MXN (approx $36 USD) to the INM office processing your visa at the border.
The immigration officer will give a break off a part of the FMM when you come into Mexico. You must hold on to this stub from the FMM because you will need to surrender it/turn it in once you leave Mexico. However, if your trip is less than 7 days, you can get an FMM free of charge.
If you are flying, the cost is included in your ticket fare.
If you don't surrender your tourist visa in Mexico and your FMM expires, then you have overstayed your visa to the Mexican government. Even if you have left the country already, you won't be allowed to come back to Mexico in the future until your previous tourist visa is settled.
How Long Is It Good For?
But don't worry. 😅
The Mexican authorities give you up to 180 days (about 6 months) on an FMM tourist visa. So you can fully explore Mexico for 6 months before you even have to think about the end of your FMM tourist visa.
In 2021 there has been several reports of tourists being given less than 180 days on their tourist permits or FMMs. It isn't clear why this happens to some people and not everyone. I explain more about it in this article
The exception to the 180 days on an FMM is when you are coming to Mexico to process your residency. Then you are only given up to 30 days.
Coming To Mexico As A Resident
Suppose you just received your residency visa approval from a Mexican consulate in the U.S., Canada, or Europe. In that case, you will need to travel to Mexico to finalize the process and exchange your stamp for an actual resident card in Mexico.
And when you come to Mexico, you will still need to process an FMM. However, you must tell them not to mark you as a tourist when you are with an immigration agent. They should mark your FMM as "Canje."
If they mark you as a tourist, INM (Mexico's Immigration Service) will not process your resident stamp for a resident card, and you will have to start all over again.
So don't forget this process when you come to Mexico for Canje. Remember to ask for "canje" and that you not be marked as a "visitante" or tourist.
If You're A Resident Traveling Out Of Mexico
The process is a little backward when you leave Mexico as a residente temporal or residente permanente.
Whatever you do, DO NOT LEAVE MEXICO without going to the immigration counter (only at international airports), filling out the bottom half of an FMM, and registering your exit with INM (as seen below).
Most likely, your flight crew won't let you board your flight without turning in this paper unless you have the new eFMM in Mexico– the digital version of the FMM.
Once you do that, make sure an INM official stamps this piece of paper. Which essentially is your notification to INM that you are leaving the country. And before boarding your flight, your aircrew will ask for this piece of paper. Turn it into them. That's it. You've done your part.
When you come back to Mexico, you can then fill out the top part of the FMM (see below). And when you pass through immigration, you will have to MAKE SURE that an agent marks you as a temporary or permanent resident. Don't allow them to mark you as a visitante. To avoid any problems, you can pull out your resident card when you hand them this paper along with your passport.
I hope this helps to clear up any questions on whether you do or do not need an FMM. Check out my other posts to learn more about retiring and living in Mexico!