Between shimmering waters and rugged mountains, La Paz is a welcoming city for new residents. If you're considering living in Mexico and enjoying the vibrancy of urban life and easy access to natural beauty, this place should be high on your list.
This city has been impressing visitors for a long time. When famed American author John Steinbeck passed through in 1940, he wrote, "We had never seen a town which even looked like La Paz, and yet coming to it was like returning rather than visiting."
This laid-back city offers a relaxed and friendly atmosphere. The city's historic downtown features colonial architecture and colorful buildings that create a charming ambiance. Unlike many other coastal Mexican cities, La Paz lacks high-rise resort-style development and has retained a quant yet modern feeling.
In addition, the city has a lively cultural scene with museums, art galleries, and music festivals that showcase the region's rich history and traditions.
You'll find no shortage of outdoor activities to enjoy as well. This is a popular destination for water sports, such as snorkeling, scuba diving, and fishing, thanks to its crystal-clear waters and diverse marine life in what oceanographer Jacques Cousteau called "the world's aquarium."
Where is La Paz?
It is located in Mexico's southern part of the Baja California peninsula. It is the capital city of the state of Baja California Sur and is on the peninsula's eastern coast along the Gulf of California.
It is located about 135 miles north of Cabo San Lucas, another popular tourist destination, and about 700 miles from the US border.
How to Get to La Paz
Because it has its own airport, not far from the city center, you can catch direct flights from several cities in Mexico, such as Mexico City, Guadalajara, and Tijuana. However, many people fly into Los Cabos International Airport, a two-and-a-half-hour drive away, with many direct connections to the United States and Canada.
You might also consider driving here. A long highway running down the peninsula connects La Paz to the United States, making for a road trip of desert vistas and charming oasis towns. Although you will need a Mexican auto insurance policy, you won't need a Temporary Import Permit (TIP) to bring your foreign-plated vehicle to the Baja Peninsula.
Getting Around
While having a car can be convenient, you won't need one to get around the city. However, if you have your own vehicle, you'll have the flexibility to explore the surrounding countryside more easily, including some of the most impressive beaches in Mexico.
Many main attractions are located along the seaside malecón or a short walk away. Indeed, strolling is a popular way of getting around, especially in the cool evenings.
Taxis are plentiful; you can easily call one on the street or arrange through a hotel or restaurant. Negotiating the fare in advance is important, as taxis don't typically use meters. The ridesharing apps Uber and Didi are also active here.
The city also has a bus network connecting different neighborhoods and surrounding towns. While they may be slower than other options, buses are the area's most economical form of transportation.
You can also hail a colectivo. These bus-style taxis run a fixed route and can be identified by the destinations painted on the windshield.
Weather in La Paz, Mexico
La Paz has a subtropical desert climate. It's hot in summer but pretty mild in the winter. The city enjoys plenty of sunshine, with an average of 320 sunny days yearly.
During the summer, temperatures can soar to around 85-95°F, with occasional heat waves pushing the temperature even higher. The evenings are cooler, with temperatures dropping to the upper 60s°F.
Summers are also very muggy. Although cooling Coromuel winds provide relief in the evenings, you might want to look for a place with AC if you plan to be in La Paz during this season. This is also hurricane season, although not every year experiences a major storm.
The winter months (December to February) are much milder, with average daytime temperatures ranging from 65-77°F. Nighttime temperatures can drop to around 50°F or lower. Although the winter months are generally dry, occasional rainfall can occur.
ADDITIONAL READING YOU MAY BE INTERESTED IN
The Population is La Paz
Even though Baja California Sur is sparsely populated, La Paz is still a sizable city with about 250,000 people, including several thousand expats.
Many people come to retire in Mexico, but recent years have seen more digital nomads and families come to La Paz thanks to an expanding network of fiber-optic internet and several excellent international schools.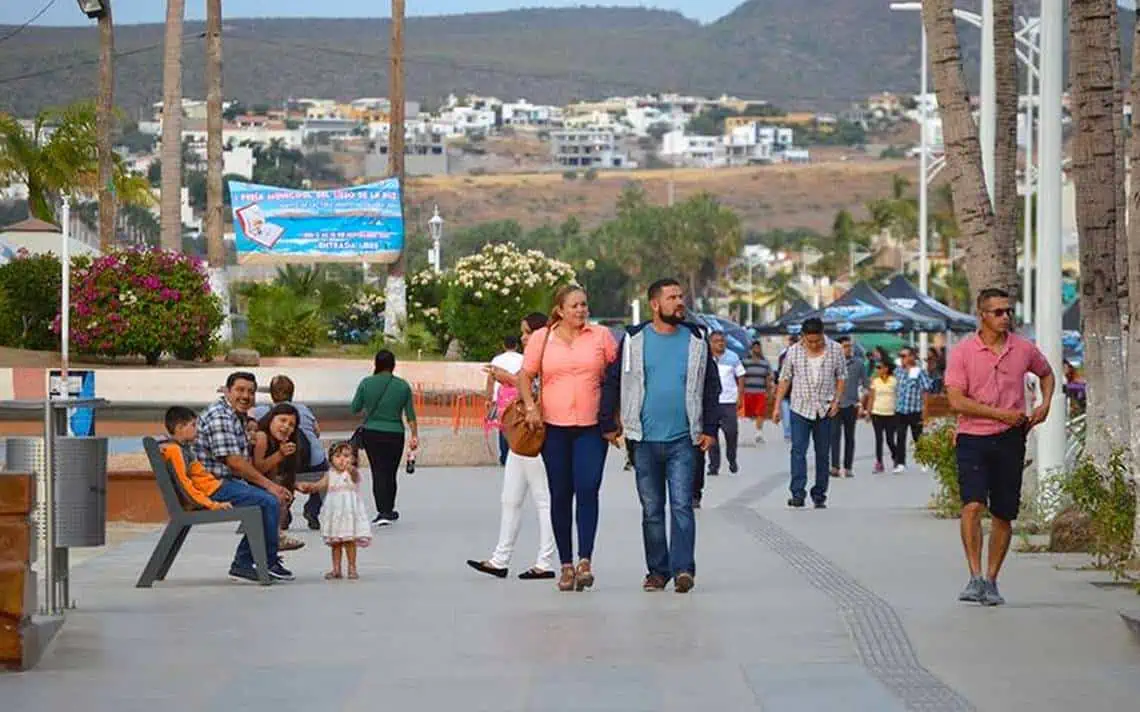 While La Paz is a bustling city in many respects, it also retains a small-town charm characterized by a relaxed pace of life. In addition, many visitors appreciate the mix of urban and natural surroundings, as the city is located on the Gulf of California's shores and surrounded by stunning natural landscapes.
Best Time to Visit La Paz?
The most popular time to visit La Paz is during winter due to the mild and comfortable weather. Unfortunately, this is also the peak tourist season, with higher prices and more crowds. Book accommodations and activities well in advance if you travel during this time.
La Paz hosts one of Mexico's biggest celebrations- Carnaval, every February. This lively and colorful celebration of culture, music, and dance attracts many visitors.
Spring and fall are also great times to visit. The weather is still warm and pleasant. This is an ideal time for outdoor activities such as hiking, snorkeling, and whale watching.
Summer is the low season, as the weather can be extremely hot and humid, but this is also a good time to visit for budget-conscious travelers who can handle the heat. In addition, the sea temperature is perfect for swimming, and there are fewer crowds and lower prices for accommodations and activities.
What to do in La Paz
There's plenty to occupy your time in La Paz. The city has enough to keep you busy, but the biodiverse waters offshore remain the main attraction. Here are just a few of the popular things to do: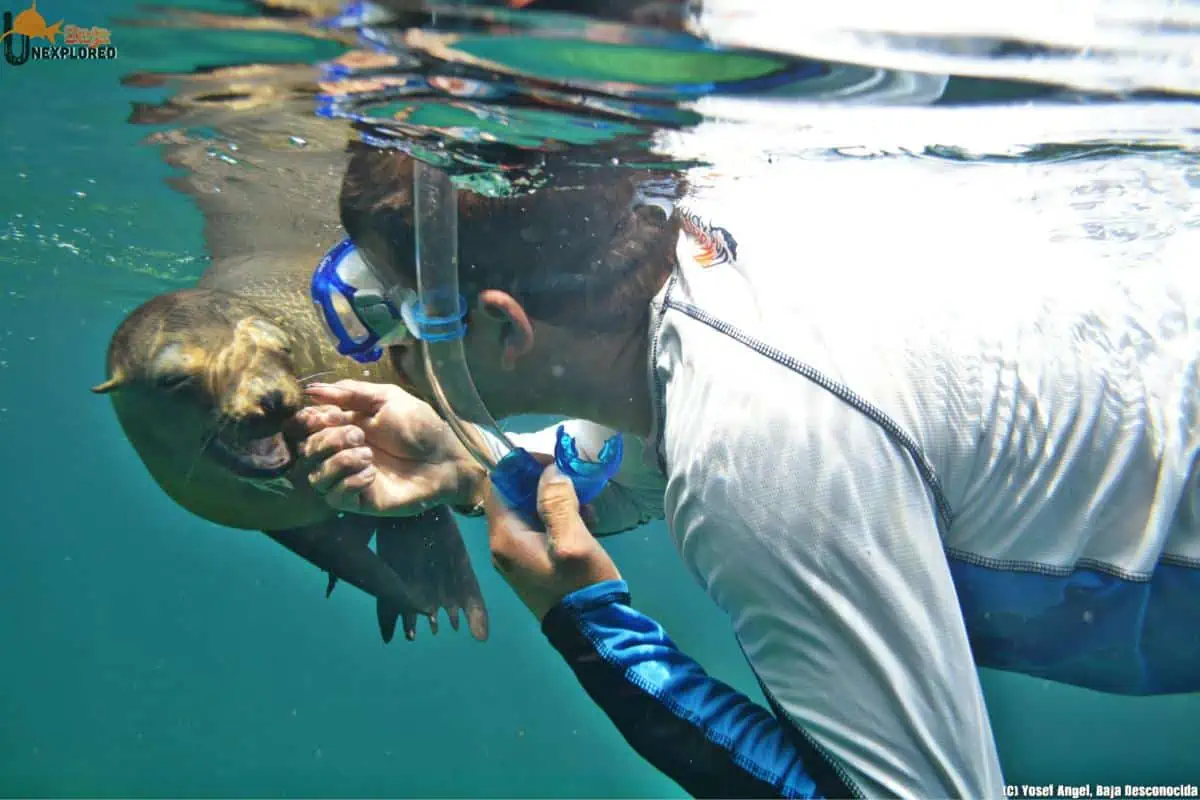 Boat excursion to Isla Espiritu Santo: This island is popular for swimming, snorkeling, and kayaking. Visitors can see various marine life, including sea lions, dolphins, and tropical fish. Excursions leave every day from the malecón.
Go Whale Watching: The area is known for its whale-watching tours, which offer visitors the chance to see humpback and blue whales up close in their natural habitat from December to April.
Swim with giants: In winter and spring, whale sharks are found just offshore from the city. Swimming alongside these gentle giants on a licensed tour is an unforgettable adventure..
Promenade along the malecón: This picturesque boardwalk studded with palms and contemporary sculptures runs along the downtown waterfront. It is a great place to stroll, relax, and enjoy the views. The malecón is lined with shops, restaurants, and bars, making it a popular spot for visitors and locals.
Visit Playa Balandra: This beautiful beach is located just outside La Paz and is known for its crystal-clear waters and impressive scenery. You can swim, snorkel, and kayak in the calm waters and relax on the soft white sand of what many consider the most picturesque beach in Mexico.
Go to the Museums: La Paz has several museums worth visiting, including the Regional Museum of Anthropology and History and the Whale Museum.
Take a day trip to Todos Santos: This artsy surf town is located about an hour's drive from La Paz and is known for its galleries, colonial architecture, and beaches. You can easily spend a day exploring the town's galleries and shops and enjoy a meal at one of the many excellent restaurants.
Go Sportfishing: La Paz is a popular destination for anglers, with several species of trophy fish in the waters surrounding the city. Visitors can charter a boat and try to catch marlin, dorado, tuna, and more.
Take a hike: The desert wilderness outside the city offers a range or conditions for avid and novice hikers alike. Many scenic hikes will get you out into the wilderness to fully appreciate this unique desert ecosystem.
Popular Neighborhoods in La Paz
Where you end up settling in La Paz will depend on several factors, such as your budget, housing needs, and how you want to spend your time. Here are a few of the more popular neighborhoods to consider:
El Centro: Living in the city center will put you within walking distance of many of the best attractions and restaurants. However, homes will be on the smaller side for what you pay.
El Esterito: This mostly residential neighborhood abutting downtown offers a mixture of single-family and multi-family homes for multiple budgets.
El Centenario: This family-friendly neighborhood is about 20 minutes from downtown La Paz and popular with expats who want more space and near urban conveniences. El Centenario has several residential communities known for their quiet, laid-back atmosphere.
Paraiso del Mar: a developing resort/residential community on its own peninsula, this neighborhood is easily reached by a free ferry from downtown La Paz. Although it feels remote, Paraiso del Mar still has all the necessary amenities and utilities for comfortable living.
La Posada: a gated community located in the heart of La Paz. This neighborhood of luxury homes is enjoyed by expats who want to be close to the city's amenities.
Fidepaz: a residential community on the outskirts of downtown La Paz. The neighborhood has more affordable homes and is popular with expats that want to live close to major shopping centers.
El Comitan: This rural community is about 30 minutes outside La Paz. It has affordable homes for expats who want a quiet, rural lifestyle.
What is the food like?
Dining in La Paz is one of the city's greatest pleasures. The diverse food scene reflects the city's coastal location and Mexican heritage. Here are some of the types of food you can expect to find:
Seafood: La Paz is a coastal city known for its fresh seafood. Popular seafood dishes include ceviche, shrimp cocktails, and grilled fish. Don't miss some of the best shrimp and fish tacos anywhere!
Mexican cuisine: There is a wide variety of Mexican restaurants here, ranging from street food stalls to upscale restaurants. Tacos, enchiladas, and tamales are all popular dishes.
International cuisine: There are mixed international restaurants, including Italian, Japanese, and Mediterranean cuisine here.
Street food: La Paz has a lively street food scene, with vendors selling everything from tacos and tamales to fresh fruit and churros.
Overall, the food scene here offers a variety of options for all tastes and budgets. Here's a brief breakdown of dining costs in La Paz:
A coffee and pastry at a café – 60MXN or 3USD
A beer and plate of tacos at a taqueria – 120MXN or 6USD
Lunch and drinks for two at a midscale restaurant – 500 MXN or 25USD
Multi-course dinner and cocktails at a high-end restaurant – 2,200MXN or USD110
Do you Need to Speak Spanish?
While Spanish is the official language in La Paz, it is still possible to get by with English only, especially in tourist areas. Many locals in the city's hospitality industry, such as hotel staff and restaurant servers, speak at least basic English. Many signs and menus in tourist areas are also available in English.
However, outside of the tourist areas, English proficiency among locals may be more limited. Learning some basic Spanish phrases to help communicate with locals is always a good idea. Speaking some Spanish will also allow you to fully immerse yourself in the local culture and have a more authentic experience.
Healthcare in La Paz
The healthcare system in La Paz is one of the best in the region, with several well-regarded hospitals and clinics.
As a result, the city has become a popular destination for medical tourism, with many Americans and Canadians arriving for medical procedures and dental work.
If you need minor medical care, visit one of the many Farmacias, like Farmacia del Ahorro, which gives you consults with a doctor onsite for $50 pesos. But if you have something more serious, we recommend going to one of the major hospitals in town. Some of our recommendations include Central de Especialidades and Medica Fidepaz.
Plan Your Move to La Paz
Are you excited about the idea of living in La Paz?
If you can see yourself relocating to this city by the sea, I highly recommend you visit it first. A private relocation tour in La Paz will answer any lingering questions you may still have and give you a feel for what it's like to live here.