When most foreigners think of the Baja Peninsula, they picture the
tourist hotspot of Cabo San Lucas. But the peninsula has a lot more to
offer.
Located by the Cortez Sea, La Paz is the capital of Baja California
Sur and one of the most popular places to live in Mexico.
With spectacular beaches and landscapes, some of the friendliest
people, mouthwatering food, and top-notch amenities, La Paz offers a
dream lifestyle.
Let's dive into the details of living in La Paz
Population in La Paz
Around 250,000 people live in the municipality. Most residents are
Mexicans. But there's a sizeable expat community, estimated to be in
the thousands.
Until several years ago, La Paz mainly attracted expats wanting to
retire in Mexico. But the demographics are changing, with expats from
all age groups and life stages moving here. The city is also becoming
popular among digital nomads looking to move to Mexico.
The Weather in La Paz
La Paz has a dry tropical climate with over 300 days of sunshine!
May to October is warm, with average temperatures of 77-86F and
daytime highs of 90-97F. December to February is winter, with temperatures ranging between 53-78F. So, you'll need some light winter clothes to live here.
July to December is the rainy season. But the wettest month,
September gets only around 2.5 inches of rain on average.
Cost of living in La Paz
La Paz offers more affordable living and value for money vs. its
neighbors in Los Cabos.
Here're are some examples: (sources: Numbeo and our customer's cost of living)
Monthly Rent in La Paz:
1-bedroom apartment in the city center – MXN14,000 or USD700
1-bedroom, 1-bath house with pool outside the city center MXN17,000 or USD850
3 Bed 2 Bath house unfurnished near city center MXN $19,000 or $1,000 USD
Keep in mind that rentals are hard to find in some areas. So, I always ask my clients to work with a realtor from the area. They have access to many rentals
that aren't advertised. See ourCOMPLETE Mexico Relocation Guide for a list of real estate agents and other service providers. We don't take any commissions.
Our recommendations are purely based on service quality.
Utilities in La Paz:
Monthly costs for two adults:
Water – MXN200 or USD10
Gas – MXN300-400 or USD15-20
Electricity – maximum of about MXN2,400 or USD120 for a 2-bedroom house with AC
Internet with a mobile plan – MXN600-800 or USD30-40
Eating out
Dinner at a mid-range restaurant (for two) – MXN700-1200 or USD35-60
Pint of domestic beer – around MXN50 or USD2.5
La Paz has some of the best food in Mexico. And the seafood here is exquisite! There's a variety of restaurants for all budgets. You can find places with live music and even a mariachi band. The restaurants by the Malecon offer glorious views.
These are some of our top picks: Restaurante Central 1535 is popular among expats. And Harker Board CO is great for affordable pizza and beer.
Groceries
Groceries for two adults may cost about MXN8,000 or USD400 a month.
There are large supermarkets like Walmart and Soriana for all your grocery needs. And unlike in Los Cabos, farmers' markets are popular here. They sell fresh produce, meat, seafood, cheeses, and many other items.
Getting around
The public transport is not great. So, having a car is the best option. Since La Paz is about a 21-hour drive from San Diego, it's very common to
see foreign-plated cars. And because the Baja Peninsula is a free trade zone area, you will not need a Temporary Import Permit to drive your foreign plated car in La Paz. Making it attractive to tourists and residents moving to Mexico.
However, you'll need Mexican residency to own a Mexican-plated car.
The city also has plenty of taxis and services like Uber and Didi. It's
also a great place to cycle and appreciate even more of the landscape this way.
Here are some approximate costs for transportation in La Paz:
Local bus fare: less than MXN20 or USD1
5-mile taxi ride: About MXN200-220 or USD10-11
La Paz has an international airport with direct flights to U.S. cities like
San Diego and Phoenix and easy connections to other places in North
America. And with various connections to anywhere in the world!
So, to give you an idea of how much money you'll need to live in La Paz, a couple can live comfortably for about MXN40,000 o USD2,000 a month.
Healthcare in La Paz
The city has some of the best healthcare in the Baja Peninsula. That's
also why it's one of the best beaches to retire in.
There are good hospitals, clinics, pharmacies, and many English-speaking doctors.
The two main hospitals are Centro Médico and Hospital Fidapez. The Fidapez hospital caters to expats. And they accept many insurances, including from some U.S.-based providers. Healthcare is affordable.
A visit to a specialist costs about MXN600 or USD30. But remember, the costs can add up during an unexpected event. That's why it's important to know about healthcare insurance in Mexico.
Watch my interview with Edgar, an excellent health insurance broker in Mexico with over 20 years of experience helping expats in Mexico cover their medical needs. We
discuss everything you should know about health insurance in Mexico.
Is La Paz Safe?
La Paz is very safe. And you'll rarely (if ever), hear about violent
crimes. But, like anywhere in the world, there's a chance of petty crime. So, lock your doors and look after your belongings. And practice the same common sense you would anywhere else in the world. Don't make yourself the target of a crime by not being aware of your surroundings.
Things to do in La Paz
Enjoy the seaside life.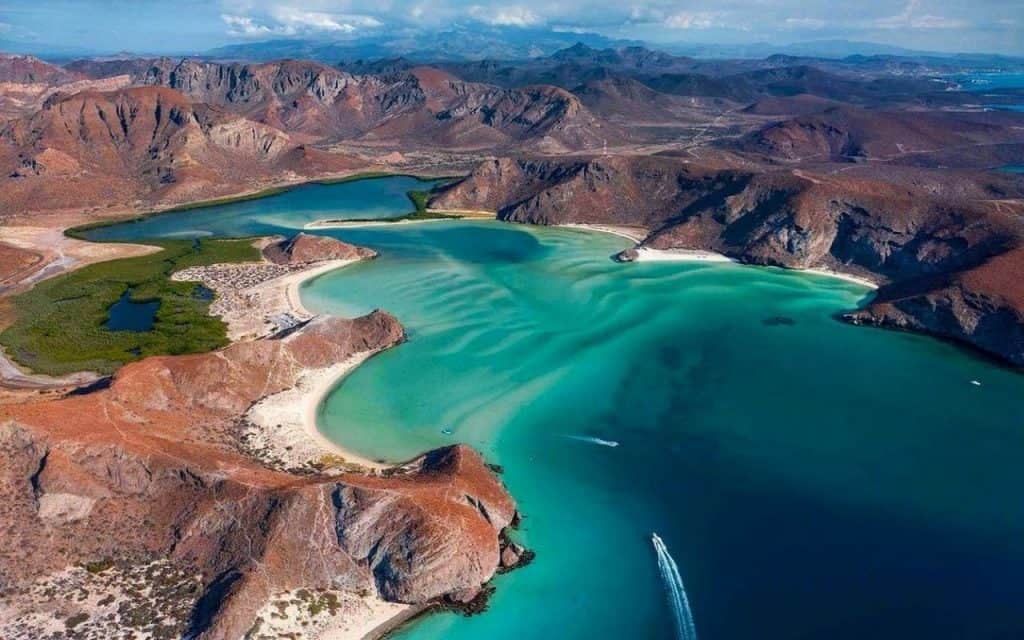 If you plan to live in La Paz, sea life will inevitably be a part of your life. La Paz has what many would call perfect beaches with white sand
and turquoise water. They're great for swimming, snorkeling, and other water sports.
The marine life of the Cortez Sea is magnificent, with whales, sea lions, turtles, and more. The famous explorer Jacques Cousteau called the Cortez Sea "the world's aquarium."
Take a day trip to Espiritu Santo Island to experience more of this marine life. Playa Balandra, a small bay with sand dunes, is a must-visit. You can even walk around the bay from side to side. And the surrounding hills are great for hiking and enjoying the vistas. The best part is you won't find many people trying to sell souvenirs or tours.
Hangout by the Malecon
La Paz has one of Mexico's most beautiful Malecons. You can take long walks, exercise, and enjoy sunsets, sea views, and the atmosphere.
And you'll find restaurants, bars, and good nightlife around here.
Go to La Paz Carnaval in February each year
Very much like Caranaval in Rio de Janeiro, La Paz has its own version. And it is filled with music, dancing, costumes and partying!
Visit Nearby Towns of El Triunfo and Todo Santos
There are several beautiful towns around an hour or two from La Paz,
like:
El Triunfo – a gold mining town with a lot of history.
Todos Santos – famous for its art and seaside activities and more…. You'll also find beautiful desert-like landscapes and hiking opportunities inland.
Embrace the local culture
You'll meet some of the friendliest people ever in La Paz. English is widely spoken (or at least understood). So, you can make friends without Spanish fluency. But remember that living in Mexico is a new experience. Embracing the local culture and how things happen around here will make life in Mexico very rewarding. That includes learning Spanish.
Many of our customers and friends tell us they have never felt more welcomed in a place as they felt in La Paz. And that is true for basically all of Mexico. The people are warm, inviting, and friendly! A Mexican friend is a friend for life!
Plan Your Move to La Paz and Mexico
Does La Paz sound like a perfect place to live? I agree with you! But remember, you should visit La Paz and other places on your list before moving to Mexico. Sometimes, it's not easy to figure out if a city meets all your needs. So, we offer customized Private Mexico Relocation Tours in La Paz and Los Cabos to help you learn about living in each city.
These are usually 1-3 day tours, but we can adjust the duration to suit your
needs. You'll get a local expert who'll share expert tips and insights into living in La Paz. With NO AGENDA to sell you anything!