Sometimes called "The White City" for the color of the many limestone buildings, Merida is the cultural heart of Yucatan. You won't help but notice the strong Mayan influence here. You may even hear people speaking Maya in the streets!
With a population of over 1 million people, Merida is a sizeable city. And several sources report about 10-15 thousand expats living here from the U.S. and Canada.
If you're looking for a unique place to live in Mexico or visit, Merida is worth considering. From the well-preserved colonial architecture to the amazing food scene, there's something for everyone in Merida. Plus, it's conveniently located near some of Mexico's most beautiful beaches and cenotes. So why not take some time to explore this incredible city?
Where is Merida Located?
Merida is the capital of Yucatán State, and the largest city on the Yucatán Peninsula is the largest city on the Yucatán Peninsula located in southeast Mexico. The population is about 1 Million people, making it one of the more populated cities in Mexico. In addition, there are easy bus connections to other cities on the peninsula, such as Cancun and Campeche.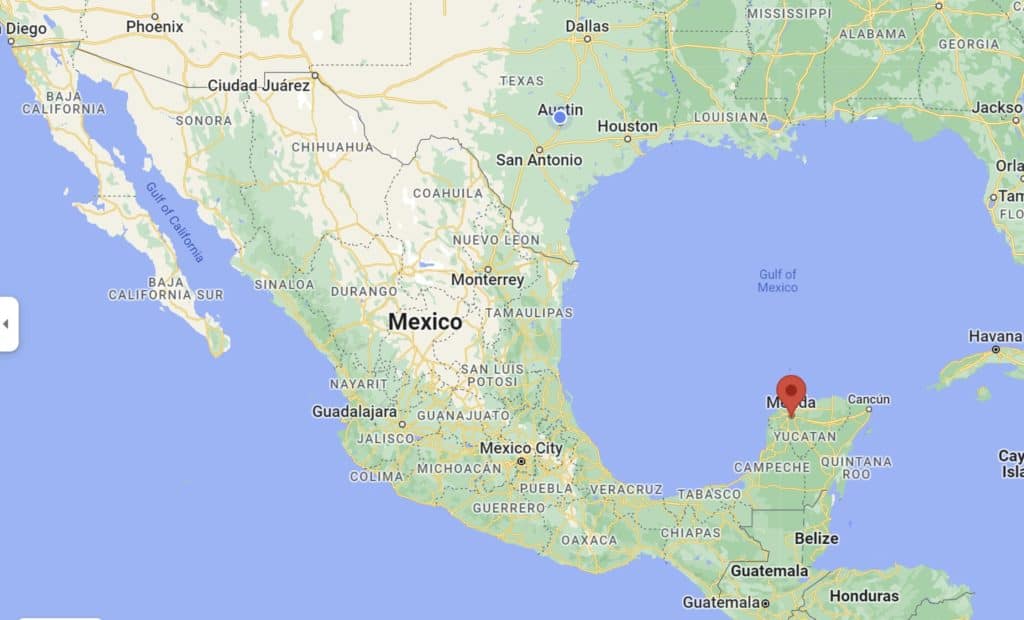 Arriving in Merida
Getting to Merida is a simple process. The Merida International airport on the outskirts of downtown connects Merida to the rest of the world. You can fly directly to Merida from airports within Mexico and a few locations in the United States, such as Miami and Dallas.
Regular long-distance bus connections also connect Merida to the rest of the region. Many people arrive at the airport in Cancun, where they can catch an ADO bus directly to Merida. It's nearly a four-hour journey, but the buses are clean and extremely comfortable.
Getting Around Merida
Uber, Didi, or a taxi will get you anywhere in Merida for very little money.
Local buses are numerous and very inexpensive as well. However, walking around the historic center is quite doable thanks to well-maintained and shaded sidewalks. Plus, going about the city on foot lets you avoid the traffic that snarls downtown at rush hour.
Although some people choose to have their own transportation in Merida, most find it easy to get around using public transportation or walking.
Here's a breakdown of what local transportation in Merida costs:
Taxi or rideshare – MXN50 – 100 or USD2.50-5, depending on time of day and distance
Local bus – MXN10 or USD0.50
Weather and Climate in Merida
Merida is hot. There's denying the heat that this low-lying tropical city experiences. Daytime highs get into the 90s Fahrenheit from March to October and only cool down to the 80s during winter. Humidity stays high year-round but peaks in the summer. For this reason, winter is the most popular time to visit the city.
A lot of homes in Merida do not have air conditioning. Many people in older stone and adobe buildings find that they don't need it, as the walls are well-insulated. However, you will need to decide for yourself if AC is necessary for you. Since not all homes have AC, it will limit your options if you decide it's a must for you, but a good real estate agent in Mexico will help you find one. Also, remember that electricity is one of the more expensive utilities in Mexico.
The Best Neighborhoods in Merida
Merida is home to many attractive neighborhoods to live in. Here are some to consider:
Benito Juarez Norte and Campestre – These adjacent neighborhoods are just 10 minutes from downtown and host tree-shaded streets, shopping centers, and comfortable homes.
Centro Histórico – Charming colonial architecture and immediate access to many attractions make this a desirable part of the city.
Montes de Amé – a quickly growing area on the outskirts of downtown within a short distance to several malls, hospitals, and universities.
Montecristo – a quiet residential neighborhood with easy access to the city center.
Cholul – a sleepy and more affordable district on the city's periphery, is quickly becoming a popular place to settle in Merida.
Francisco de Montejo – a large subdivision to the west of downtown that offers a variety of homes for almost every budget.
However, you may also consider the neighboring areas of Uman, Hunucmá, Kanasín, and Tixkokob. These have become attractive lately for people searching for lower rents or more space.
Health Care
Merida boasts several modern and well-equipped public and private hospitals and clinics. Health care in Merida is usually very affordable and easy to access. Numerous medical specialists work in Merida's hospitals, so a wide range of care is available. Many retirees cite this access to quality health care as a major reason to relocate to this city.
Is Merida Safe?
Regarding crime, Merida is one of the safest cities in North America. Crime does occur, but it usually consists of pickpocketing and petty theft. Be aware of your surroundings and practice common sense safety the way you would in any city.
Hurricanes can sometimes strike Merida in the summer or fall. And can lead to localized flooding and power outages. That's why it's important to have a plan for hurricanes in place if you intend to be in Merida during storm season.
Holidays and Events in Merida
Celebrations are a part of life in Merida. Some harken back to ancient Mayan festivals, while others are a more recent addition. Major events in Merida include:
Merida Fest – January – A multi-week celebration of arts and culture celebrating the city's founding
Holy Week – the week leading up to Easter Sunday
Noche Blanca – late October – an annual open-studios art celebration
Posada/Christmas/New Year/Three Kings Day – December 16 – January 6
Things to Do in Merida
In Merida, you can easily fill every hour of your day. As a cultural center, state capital, and large city surrounded by forested countryside, there's no shortage of options for you.
Immerse Yourself in the Culture
Merida has a unique character as a center of Mayan culture in Mexico. This plays out in the food, entertainment, and celebrations.
Every evening, Merida puts its culture on display. There are live dance performances and concerts in the plazas and streets of the historical center. You can even watch the prehispanic Mayan ballgame of Pok Ta Pok played in the Plaza Grande. On weekends, the locals crowd this and other plazas to socialize, dance, and enjoy live free entertainment.
Go for a Stroll
Nearly every city in Mexico has a place to promenade.
Merida is no exception. In the late afternoons and evenings, locals and visitors stroll down the Paseo de Montejo. Reminiscent of the French boulevard, this wide street cuts a six-kilometer swath across downtown. Meandering down the paseo, you'll pass stately homes, trendy boutiques, historical monuments, and museums. On Sundays, the Paseo de Montejo is closed to vehicle traffic, making it much more attractive to pedestrians and bicyclists.
Remember to explore some of the smaller streets in the historic center too. Wandering these streets is full of happy surprises, such as small neighborhood parks, colorful homes, and tranquil little cafes.
Enjoy the Food
The cuisine in Merida reflects the Mayan culture of the region. Yucatecan food, characterized by rich marinades and complex flavors, is unique to Mexican gastronomy. Some typical Mayan dishes like Cochinita Pibil are now found nationwide.
However, the Yucatan remains the best place to sample foods such as papadzules, sopa de lima, poc chuc, and pibihuá. These and other Mayan dishes are traditional and made from ingredients native to the region.
It's hard to imagine getting bored of this food. But luckily, there are more and more international restaurants all over Merida. If you've had your fill of Yucatecan food, you can enjoy food from Korea, Japan, the Middle Eastern, Italy, and India.
Merida boasts eateries for every budget and occasion. So whether you're dining on a plastic stool next to a street cart or sitting over a white tablecloth at a high-end restaurant, you're in for a mouth-watering experience.
Here's a breakdown of what you can expect to spend dining out in Merida:
A beer at a bar – MXN35 or USD1.75
A couple plates of tacos and drinks for two at a street cart – MXN140 or USD7
Latte and pastry at a cafe – MXN100 or USD5
Lunch for two at a mid-range restaurant – MXN500 or USD25
Multi-course dinner and cocktails for two at a high-end restaurant – MXN1600 or USD80
Go Shopping
Whether you're looking for designer boutiques, international department stores, or artisan workshops, Merida will have what you're shopping for. Getting lost on an open-ended shopping excursion is a popular way to spend the day in Merida. Although prices are predictably inflated near the main tourist attractions, thrifty and determined shoppers can usually find a good deal.
In Merida, handicrafts are available that can't be found anywhere else. Yucatecan styles of embroidery adorn dresses, handbags, and even running shoes available throughout town. A hand-woven hammock is the most quintessential of Merida souvenirs.
Many locals and expats alike do their regular shopping in Lucas de Galvez Market. This centrally located collection of market stalls has everything from fresh produce and flowers to artisanal crafts and home goods.
Admire Amazing Architecture
One thing newcomers to Merida immediately notice is its architecture. You don't need to be an architecture buff to appreciate it, but enthusiasts will recognize many of the buildings' baroque and gothic colonial elements.
The wealth of Merida's colonial past is on display with the city's architecture. In and around Merida are numerous haciendas, many open to the public or have been converted into hotels. These mansions of past times didn't just house the rich; they were often centers of production where agave fibers were processed into rope and fabric.
Go for a Swim
Although the Yucatan Peninsula has over 1000 kilometers of coastline, Merida is about 35 kilometers from the nearest beach at Puerto Progreso.
You can take the Autoprogreso bus in about 40 minutes for MXN25 or USD1.25. Exploring a bit further afield will bring you to more off-the-beaten-path beaches.
You can head to one of the many nearby cenotes unique to the region. And cooling off in the crystalline freshwater of these sinkholes is an otherworldly experience and not one to be missed. Numerous cenotes are easily accessible from Merida by public transportation or private vehicle.
Get Into Nature
You don't have to travel far outside Merida to experience nature like nowhere else. The Ria Celestún Biosphere Reserve is about two hours away, home to thousands of flamingos, crocodiles, and other fascinating creatures.
Less than an hour from downtown is El Corchito Ecological Reserve. Most of this reserve is only accessible by boat, keeping it from getting too crowded and making it the perfect place for wildlife spotting among its sprawling mangroves and cenote-dotted forest.
The Puuc Mountains are full of hiking trails that bring outdoor enthusiasts to ancient ruins, caves, and seldom-visited jungle environments.
Stay Active
With three golf courses, several tennis clubs, horseback riding centers, and even a trampoline park, you can stay as active as you want in Merida. In addition, the city has many air-conditioned gyms, swimming pools, and personal trainers. When the temperatures drop in the evenings, you can join the many joggers who like to jog to the main boulevards and public parks.
Travel Back in Time
Merida was founded in 1542 and still retains much of its original layout. Many of the buildings in the historic center date to the 17th and 18th Centuries. Some of the grand haciendas are open to visitors and make an excellent place to cool down during the heat of the day.
Merida has excellent museums, such as the Anthropology and History Museum and the Mayan World Museum, which educate visitors about the region's rich historical heritage.
The history doesn't stop at the city's edge. An hour south of Merida, the Mayan ruins of Uxmal lie surrounded by the thick jungle. Less visited than Chichen Itza, many archaeologists and visitors consider it just as impressive. Sayil, Labna, Kabah, and other smaller archaeological sites are also in the area where you might be the only visitor that day.