You've made the decision that you're moving to Mexico! That's exciting!

You imagine your life on one of the many beautiful beaches Mexico is home to.
Or, perhaps, you imagine yourself somewhere in the mountains surrounded by lush green forests. Either way, this is an exciting country that has a little bit of everything and even more!
Living in Mexico can save you money, with its low cost of living. It can bring back your health with top-notch healthcare and medical facilities. Not to mention the vast amounts of vegetables and fruits available year-round.
So here are five things you should consider when deciding on your ideal destination before moving to Mexico.
1. Residency Visa
Unlike many other popular ex-pat destinations, Mexico makes it very easy for Americans to become lawful residents. The application process is pretty simple, without having to travel to Mexico to get it started.
The Mexican government doesn't require you to prove much other than:
employment in Mexico
economic solvency
a steady income for those who are self-employed
or a retirement pension for those who are retired.
The ease of getting a residence visa is also an attractive reason for many ex-pats looking into moving to Mexico. If you're interested in learning more, I've outlined a list of processes and costs associated with getting a visa in Mexico.
2. Mexico Is Incredibly Bio-Diverse
For me, one of the most important things to consider when moving to Mexico is the type of climate you would like to live in.
Why?
Because if you love the weather and the year-round conditions of the city or town you chose to live in, then all the other things on this list can follow. Say, for example, you love the beach. You can easily find a place right on the beach or within walking distance to the beach. Depending on your budget of course.
And also depending on your budget will be the types of amenities you can find in your new home. But Mexico isn't only beach and resorts. If you're tired of the hot and humid weather then you can move to the highlands of Mexico. The weather in this area is always temperate and comfortable. Many people don't realize just how diverse Mexico is! You can find beaches, mountains, lakes, cities, and everything in-between.
Mexico Is A Big Country- It Has MANY microclimates
Mexico is unique among Latin American countries in that it has seven very different microclimates. I'll group them into three categories: Tropical, Dry, and Temperate.
Tropical Areas
All along the coast of Mexico are the tropical areas. Most of Mexico's coast from Nayarit to Chiapas on the Pacific Side, and from Tamaulipas to Quintana Roo on the Gulf of Mexico and on the Caribbean.
You can expect rain every day in Mexico's wet tropical areas, with the heaviest rainfall in September. In September alone, you can expect as much as 15 inches of rain!
The difference in Mexico's tropical wet and dry areas is that it has a distinctive dry season. Usually, in the winter months, these areas get less than 1 inch of rain, compared to 6 inches in the summer months. Some people think that they only want to live in the mountains or highlands of Mexico. Then they spend a few weeks in the tropical areas like Playa Del Carmen or Huatulco and LOVE it there.
It pays off to explore a lot.
Dry Areas
But if the tropics are not your thing, then you should consider the drier areas. A big part of Mexico falls under the dry weather category. It makes it appealing to ex-pats considering moving to Mexico to get away from allergies caused by mold and/or humidity.
Popular ex-pat cities with drier weather include La Paz, Cabo, and Ensenada. These cities tend to get 10-11 inches of rain per year! So if you suffer from allergies and don't want to be in Mexico's high altitude areas, the dry cities are your best bet. The downside to some of these areas are the actual beaches. There can be a lot of seashells in the water making it hard to swim or walk on the beach.
A simple solution: spend a few days to weeks in this area to determine if you're comfortable here.
Temperate Areas
What's great about Mexico is that there is something for everyone. And some of the most popular ex-pat cities such as Mexico City, Guadalajara, San Miguel de Allende, Ajijic, and Cuernavaca are known for very temperate weather. But that's all subjective! It's always a good idea to travel across Mexico's large and diverse regions to get a feel for what you like before having your heart set on any one city or town.
A friend of mine who moved to Ajijic had heard about the spring-like weather in the area. Excited not to wear a sweater ever again in her life, she sold all her winter clothes before leaving upstate New York. Then she realized Ajijic gets pretty chilly for her at night.
Another friend who lives in San Miguel de Allende, didn't realize that the afternoons can get extremely hot in the city center. The sun is pretty strong in higher elevation cities like San Miguel de Allende. And on the days when there isn't much of a breeze, it can feel like a pizza oven when you're walking around town.
That's why you should visit Mexico on your own to make your own assessment. Even though plenty of apps give you an accurate reading of the weather in a city, nothing beats your own experience.
3. Budget
I'm sure you've already heard this, but Mexico's cost of living will vary from city to city. It will also vary on your spending habits.
All things considered, you can still get more bang for your buck in Mexico than you would in most places in the United States. This may be the most important reason for someone to leave the U.S. and end up moving to Mexico; a lower cost of living.
Compare and Negotiate
Highly sought-after ex-pat communities such as Ajijic or Puerto Vallarta in the state of Jalisco can be more expensive than neighboring towns such as Jocotepec or Manzanillo. I'm talking about as much as 30-50% cheaper by living 30 minutes away.-
Plus, in Mexico, you will find that prices for rentals and amenities can also vary within a single city based on things like location and amenities. What's also funny is that you could end up getting the gringo price if you don't know how to ask around and negotiate. 😉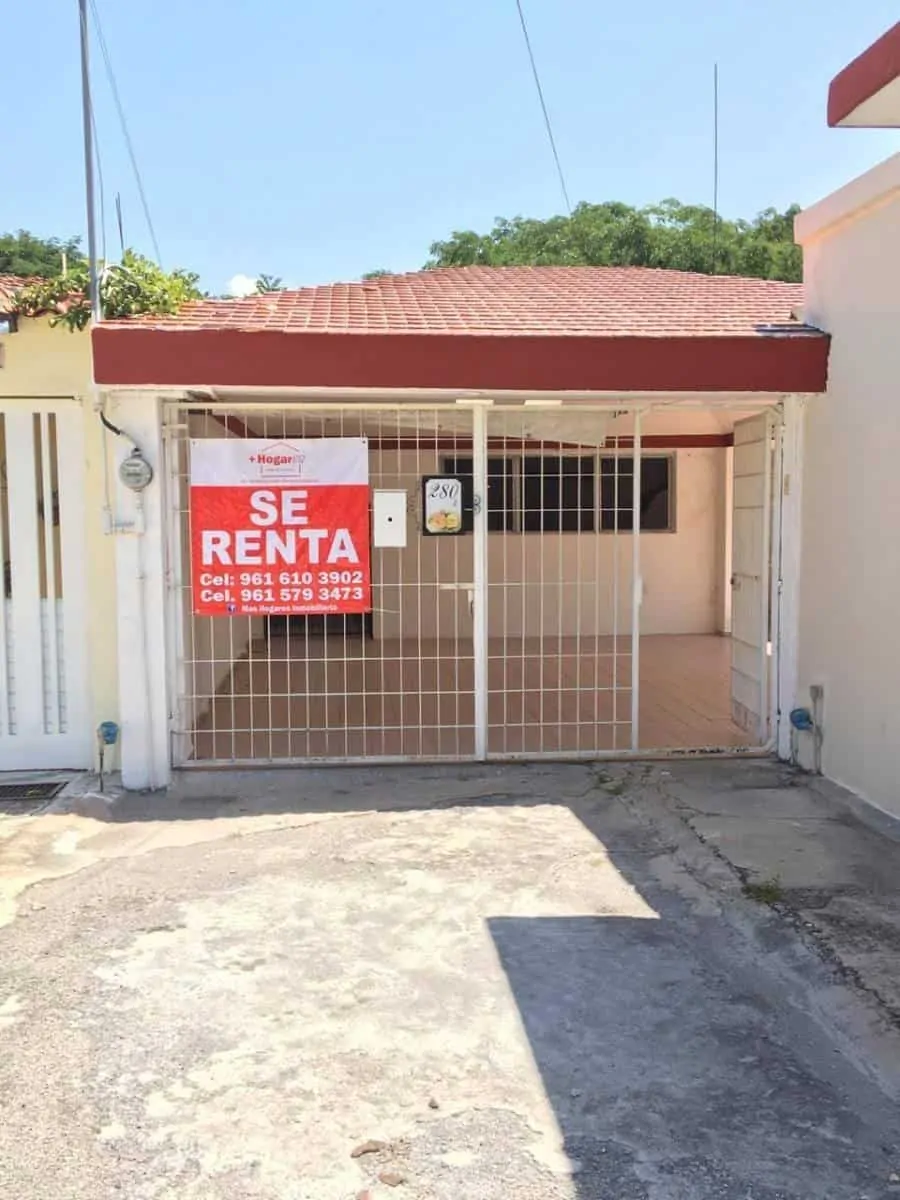 Here's a tip: walk around a neighborhood you like and look for signs that say "Se Renta." Then, call the number on the sign, and negotiate directly with the landlord. You can usually negotiate your monthly rent, rental term, what appliances or furniture are included, who pays utilities, and maintenance.
Look for houses with the sign "se renta" like this one.
Variable Expenses While Living in Mexico
There are variable costs that you should consider when thinking of the perfect place for you. Before moving to Mexico, you should know these few added expenses.
For example, the higher elevation cities like Mexico City, Ajijic, San Miguel de Allende, and Cuernavaca have mostly temperate weather. Air conditioning is not common in these areas, and it'll be a cost you don't have to consider in your budget. However, if you lived on the coast in a place like Playa del Carmen or Puerto Vallarta, you can expect to pay extra to run your air conditioner. At the very least, when you sleep.
Other variable costs could include living in the city center and walking everywhere. Or living outside the city, and needing a car. Usually, living near a city center can be more costly in rent. Still, the savings of not having a car could offset the higher rent.
There are trade-offs.
But overall, you should consider these fixed monthly expenses when you start working on a budget:
health insurance
groceries
internet
utilities like water, gas, and trash
banking fees for foreign transactions if you don't have a local bank.
Depending on your home country, you'd also have to keep in mind your current exchange rate. The current exchange rate for the U.S. dollar is $20 pesos to $1 USD.
4. Amenities
You also want to live comfortably, so it's important to make a list of the things you must have when looking for your new place in Mexico. That way, when you spend time exploring different options on the internet before actually being boots on the ground, you can filter out some of the areas that don't meet your must-haves. This will give you a realistic idea of how much bang you can get for your buck.
Keep in mind this is not the United States or Canada. This is a new adventure, and the key to successfully finding a place you will love comes with some flexibility on your part. Embrace your new adventure!
Living in Mexico's Modern Cities
Mexico is very developed and has access to super modern healthcare centers and equipment, fancy shopping centers, large international airports, and even a handful of the brand chains we are used to seeing back home.
Most mid-sized to large cities have American chains like Home Depot, Walmart, Sams Club, and similar retailers. So if this is important to you, a really great tip is to do a Google map search of the area(s) that you're looking into and see if those things are nearby or if you're willing to drive the distance to get to one of them.
But Mexico is a big country, and every state is different. Very much like the United States and Canada, the amenities you'll find in Mexico will vary greatly from one state to the next.
Living in Mexican Colonial Towns
Colonial towns that are picturesque and quaint may not have all of those chains or access to an international airport. But what they lack in those services they make up for in their true authentic Mexican folklore.
That doesn't mean you won't have access to amazing shopping or a great infrastructure. Many popular ex-pat towns like San Miguel de Allende, Chapala, San Cristobal de Las Casas, and the like are great examples of colonial towns with great amenities and shopping.
5. Activities
Your ideal destination might be a place where you can bike/run/workout outside at any time of the year. Or you might not mind the change in seasons as long as you have access to plenty of restaurants and a very walkable city.
You might enjoy living in a big city with countless concerts, plays, shows, and cultural experiences, day and night.
On the other hand, your picture-perfect scenario might include you sunbathing and relaxing while reading a book on the beach. Places like Puerto Vallarta have a little bit of both worlds.
I have a friend who lived in Puerto Vallarta who is 70 years old. He loves his daily walks along the boardwalk on his way to get his daily coffee. Puerto Vallarta is a large city with plenty of amenities and stores, but it also has a very walkable and relaxing beach vibe.
A List Of Likes and Dislikes Before Moving to Mexico
Regardless of what your ideal setting is like, finding things to do in your spare time will significantly impact how you socialize and spend your downtime.
It's something you can easily research before deciding where to live in Mexico. Make a list of the things that are important to you in your lifestyle. I highly encourage you not to skip over this one because it can be the difference between having the time of your life or being miserable in Mexico. I'm not saying that you should rule out any area that doesn't match your list perfectly. Be flexible!
I've never learned more about a city than when I joined a Facebook group dedicated to its locals and soon to be locals.
I highly encourage you to join any of the many ex-pat groups on Facebook. Look for groups around the cities or towns you are considering. Read all the events and posts published regularly to get a sense of what the community is like. You can ask questions, comment on others' posts, and have a real conversation with others just like you who decided Mexico is their place to call home.
It's very easy to join a few Facebook Groups. You search for keywords like "Expats in (name of city)" or "Americans in (name of city)" and Facebook will give you a few results.
I searched for Expats in Chapala, and Facebook recommended these groups to me. All I would have to do is read the brief description of whichever group stands out to me and click on the join icon.
Moving to Mexico Should Be Exciting!
All the advice in the world, and all the books or blogs, or posts on Facebook don't come close to being boots on the ground.
That's the only way for you to really experience the essence of being in a place: the smells, the sounds, the weather. The true feel of what it's like to be there can only really be experienced by actually being there! No surprise there, huh?
Not only will you know if this is the right place for you, but you might also make a friend or two along the way. Don't be afraid to explore before you move! I think it's necessary. With some help from the many groups available on Facebook or even Youtube, you'll notice it's widespread, and you can do it too!
I always use Google Flights to notify me of any special prices for flights to and from Mexico.
Conclusion
These are only the top 5 things I think you should consider when thinking of where you want to live in Mexico. Of course, there are many more.
I'd love to know what your list of considerations looks like. Let me know in the comments below! Don't forget to visit the Mexico Relocation Guide Facebook page for daily inspiration on moving to Mexico.