Have you always dreamt of living oceanfront but can't seem to afford it in the U.S.?
What if you could significantly reduce your cost of living? What if expenses like utilities, healthcare, groceries, internet, cellphone service, pet supplies, and entertainment were significantly less? You might be able to afford that oceanfront condo if you could reduce everything else in your budget?
That's why so many people decide to retire in Mexico. They've always dreamt of living near the ocean, with year-round sunny weather and comfortable beachfront condos they can actually afford. So here are the best beaches in Mexico for retirement.
Playa del Carmen
It is estimated that an average of 20,000 expats lives in Playa del Carmen at least part-time. In fact, most foreigners who own property in PDC are snowbirds and only spend winter on this paradisiacal beach. Playa del Carmen has foreigners from all countries. You'll hear people speaking French, German, English, and everything in between. It's a melting pot that attracts people of all ages, backgrounds, and lifestyles to come live.
So what makes Playa del Carmen so attractive?
Playa del Carmen has tropical warm weather year-round. You get to walk on powdery white sands that meet turquoise waters. The beaches are swimmable and go for miles. Plus, there is so much to do around Playa del Carmen that you'll never get bored if you don't want to.
There are people of all ages here. It's not only for retirees anymore. You'll see digital nomads in the various co-working spaces in town, and you'll also see plenty of active retirees enjoying life. The nightlife is vibrant in Playa del Carmen, and it is known for being a party beach town. However, there are plenty of neighborhoods far away from all the noise where you can have quiet and peace all day long.
Living in Playa del Carmen can vary significantly in terms of the cost of living. You can easily find a 2 bedroom apartment with basic furniture and air conditioning only in the bedrooms for about $500 USD/Month. On the flip side, you can easily find a luxury penthouse condo facing the beach with upscale touches and finishes for $3,000 USD/Month. Your cost of living in Playa will depend on your lifestyle and expenses like rent. However, it isn't unusual for someone to live comfortably in PDC for less than $1500 USD/Month.
Want to know what living in the Riviera Maya is like? Check out our Private Relocation Tours in Playa del Carmen
Puerto Vallarta
During the busiest months, it is reported that Puerto Vallarta has some 40,000-50,000 expats. However, for most of the year, that number is closer to 10-15,000 permanent residents. Puerto Vallarta is a city of approx 230,000 people. It's not small by any means, but most of the concentration of residential and convenient neighborhoods is centered close to the beach.
nestled between the Bay of Banderas, Puerto Vallarta is a popular cruise stop, its nightlife, the wide and beautiful Malecon facing the beach, and its warm weather. And although there was recently a hurricane that hit Puerto Vallarta, devastating hurricanes are rare here. Vallarta has been known since the 70s as a top Mexican beach destination, and today it keeps growing with tourists from around the world.
Puerto Vallarta has an airport, a seaport, and plenty of public transportation options. It has the infrastructure of a large city combined with the attractiveness of the beach. You'll find high-end and modern hospitals and excellent healthcare. English is widely spoken around here, and even broken Spanish will get you far.
Living in Puerto Vallarta can easily be done with $1500-$2000 USD/Month for a single person and $2000-2500 USD/Month for a couple. However, I know plenty of people who live in Puerto Vallarta on much less. It depends on your level of comfort and lifestyle.
Rosarito and Ensenada
In Baja, California, and within 1 to 2 hours driving distance to San Diego, California in Ensenada and Rosarito beach.
Rosarito is known worldwide as a surfing destination and has a vibrant nightlife. After all, you are only about an hour away from the U.S. border, so being able to drive back ad forth is very convenient.
Ensenada is known for its vineyards, its biodiversity and also serves as a popular cruise line destination. In addition, Ensenada is only a 2-hour drive to San Diego, California, which makes it extremely attractive to expats who want to be near the U.S.
Both Ensenada and Rosarito have year-round Mediterranean weather- which is great for people who want to live near the beach but are prone to humidity allergies. However, the weather in Baja California is a drier Meditteranean air with temperatures ranging from 80-50 degrees Fahrenheit at different times of the year.
In the winter months, you will need a light sweater, and in the summer, you probably won't get too hot. The weather and proximity to The United States have made Ensenada or Rosarito some of the most popular beaches for retirement.
And the lower cost of living compared to California is also very attractive. For example, you can get a nice 2 bedroom condo facing the ocean in Rosarito for $1,000 USD/Month. Utilities will likely be extra, but the lower humidity and cooler temperatures mean you won't need air conditioning all year long.
Mazatlan
Known as the "pearl of the Pacific," Mazatlan has been a popular beach destination for expats from all over the world. Neighborhoods like the "Golden Zone" are popular with expats of all ages and backgrounds because they are walkable, and many amenities are nearby.
Mazatlan offers one of the lowest costs of living on the beach in Mexico. You can easily find a nice 2 bedroom apartment near the beach for $400-$600 USD/Month, fully furnished. Your highest expense in any beach area when it comes to utilities will be electricity for air conditioning. However, the weather here tends to be a bit less extreme than the beaches on the Riviera Maya at the southernmost part of Mexico. The daily highs average around 85 degrees, whereas the lows hover around 65-70.
In Mazatlan, you'll find many comforts from back home, such as a Home Depot, Walmart, and Sam's Club. Mazatlan also has a nice and big modern hospital near the city's center. Mazatlan also has a nice international airport with nonstop flights to Mexico City, Los Angeles, and Dallas.
Huatulco
One place that stands out in popularity with snowbirds is the beach town of Huatulco. And it's for a good reason. Life is laid back here, 9 bays protect this beach from heavy hurricanes, and the state of Oaxaca is known for its immense bio-diversity. Naturually, Huatulco is beautiful!
Huatulco was planned by the department of tourism in Mexico to be a tourism haven. With those plans came a modern infrastructure such as an international airport, modern ocean-facing condos, and plenty of amenities in town. What is unique about Huatulco, though, is you won't find any franchises here like fast food restaurants, Walmarts, home depots, or any big box stores. For me, this is one of the reasons Huatulco seems especially authentic in Mexico.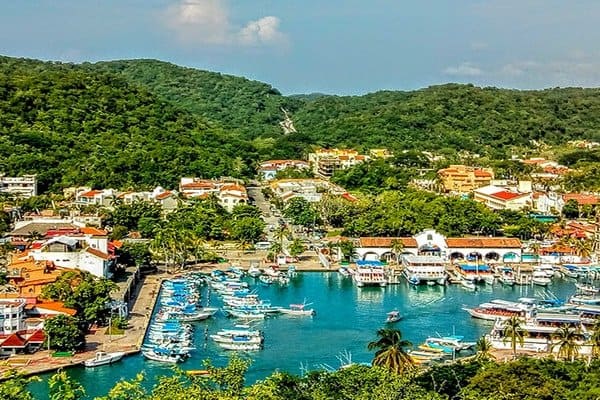 There are thousands of expats coming here every year to live at least part-time. The weather here is tropical and humid, but there is almost always a breeze, making it easy to be comfortable with minimal air conditioning use. Almost every house has at least a mini-split air conditioning unit in the bedrooms and plenty of fans throughout the house.
English is widely spoken around Huatulco, and making friends with other expats should be very easy. Unfortunately, it has recently seen a boom in development, with condos and houses selling out all the time. A 2 bedroom condo facing the beach will rent for $2,000-$3,000 USD/Month- including amenities like an onsite pool, a gym, and tennis courts. But if that's out of your budget, you can also easily find a place in town a few minutes from the beach for as low as $300-$500 USD/Month.
La Paz
Many of you have probably heard of Los Cabos in Baja California Sur, but I want to introduce you to La Paz.
La Paz and Cabo are extremely different- and I say that in a good way. La Paz is truly an authentic Mexican beach town where you can enjoy the famous Baja weather without paying the sticker shock prices of Cabo. You will find 1 bedroom apartments on the beach range between $600-$800 USD/Month.
La Paz is a fisherman's town where most of its tourism is from local Mexicans and not so many foreigners. But just because it doesn't have as many foreign tourists doesn't mean La Paz won't have amenities. In fact, the food scene in La Paz is top-notch. The seafood here is fresh, affordable, and varied. Walking down the Malecon facing the ocean is lined with restaurants, boutique shops, and cafes.
The average weather in La Paz is one of the main reasons this beach town is great for beach lovers. The average daytime highs range between 80-85- except for June-August, where daytime highs average 90 degrees. La Paz is safe, quiet, and not as busy as other tourist beaches in Mexico. One more reason La Paz should be on your list of places in Mexico worth making a trip to.