The charming colonial city of San Miguel de Allende is located in the state of Guanajuato, in Mexico's Bajio region. San Miguel is known for its rich culture and received a Pueblo Mágico designation from Mexico's Secretary of Tourism in 2002; it was named a UNESCO World Heritage Site in 2008 and consistently ranks as one of the world's best cities, according to Travel and Leisure.
With its quaint cobblestone streets, beautifully preserved colonial architecture, established arts scene, and comfortable, dry climate, it's hard to imagine who wouldn't want to retire in San Miguel de Allende (unless you're determined to live by the beach)!
San Miguel truly has a romantic ambiance between the cobblestone streets, the brightly colored buildings, and the beautiful garden and plant features. The main square is home to the incredible Parroquia de San Miguel Arcangel (the pink cathedral featured in many San Miguel photos), which is sure to take your breath away!
Since aesthetics alone aren't enough reason to retire in San Miguel de Allende, I put together this guide to help you determine whether this magical city could be the right fit for you.
Climate and Weather
In addition to being one of Mexico's most beautiful cities, San Miguel de Allende also has a fantastic climate. It is a dry, desert climate with low humidity. Because San Miguel has an altitude of around 6,200 feet, the temperature fluctuates between 80 and 70 during the day. And drops at about 50 or 40 at night.
April, May, and June are the warmest months in San Miguel, with a daily average temperature of 82°F and an average low of 56°F. Meanwhile, December and January are the coldest months, with a daily average temperature of 72°F and an average low of 42°F.
San Miguel's wet season lasts just four months, from June through September, but it may rain in October and November, too. The average monthly rainfall during the wettest months of the year is about 4 inches. During the dry season, November through April, rain is scarce, averaging less than half an inch per month.
The incredible weather is one of the reasons so many people are drawn to retire in San Miguel de Allende!
Visit our detailed video on living in San Miguel de Allende
How many expats live in San Miguel de Allende?
San Miguel has about 66,000 residents in the city proper and an overall population of around 175,000. It is estimated that about 10% of the residents are expats. The city's climate, culture, and stunning scenery make it an appealing destination for visitors and one of the best places to live in Mexico! Some foreign residents split their time between San Miguel de Allende and their home country, but many of them reside in the city year-round.
Even though San Miguel has a fairly sizeable population, it has a small-town feel. It's very walkable and peaceful, and there are many community events that will help you connect with other residents!
Cost of Living in San Miguel de Allende?
As with anywhere in Mexico, the cost of living in San Miguel de Allende will vary depending on your lifestyle, the size of your home, the neighborhood you choose, and where you buy your groceries.
Below, I've outlined what you can expect to spend on basic living expenses in the city.
(Sources: Numbeo, Inmuebles24, Vivanuncios)
Rent
San Miguel is a popular retirement destination for many wealthy Americans, which has caused real estate prices to rise significantly over the past several years.

As a result, the cost of rent varies considerably throughout the city, depending on the type of property you choose and the neighborhood where you live.
However, keep in mind that many people living here also live comfortably on less than $1500 USD a month. It's all about the rentals you find and the lifestyle you live.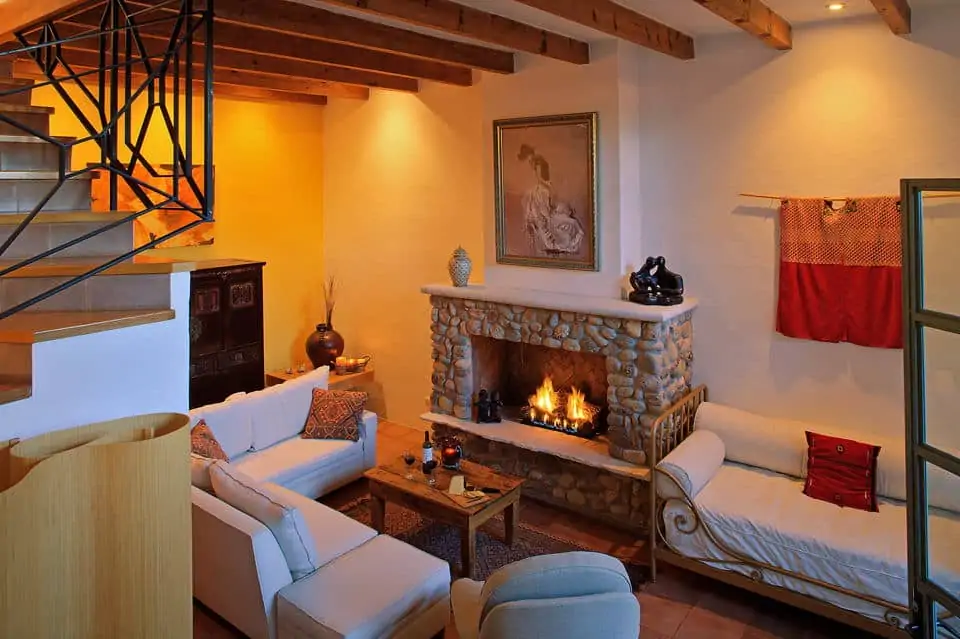 These rent costs are based on mid-range rentals in San Miguel:
2 bedroom apartment in the city center – $20,000 MXN or about $1,000 USD
2 bedroom apartment outside the city center – $12,000 – $15,000 MXN or approximately $600 USD- $750 USD a month
What are the best neighborhoods in San Miguel
San Miguel has over 20 different neighborhoods, or colonias, each with its own appeal, and you will find expats spread throughout the city. A Mexico relocation tour is a great way to get a feel for some of the different parts of the city to help you envision where you'd like to live.
The following are a few neighborhoods I recommend taking a look at as you get to know San Miguel:
Centro – central to everything but busy at times
Guadaloupe – a laid-back, artistic community near Centro
Guadiana – central and very highly sought-after for its lovely setting
San Antonio – walking distance to Centro, but less congested and with lower rent and food prices
Los Frailes – one of the oldest neighborhoods in the city, with beautiful architecture and a park-like setting
For more information on the pros and cons of each of these neighborhoods, check out this San Miguel Neighborhood tour
Utilities
Water – $300 MXN or $15 USD
Gas – $300 MXN or $15 USD
Electricity – $300 MXN or $15 USD, but more if you use air conditioning or run a space heater during the winter
Internet – $600 MXN or $30 USD for high speed internet
Cell phone – $400 MXN or $20 USD for a data plan for one person
Because the climate in San Miguel de Allende is so mild, you probably won't need to rely on running an air conditioning unit during the hot season. However, temperatures can dip into the mid-30s in the winter, especially in the hills, so a space heater might be a good idea.
Keep in mind that using a heater (or an AC unit) can be a big power suck and cause your electricity bill to go up.
Eating out
San Miguel's restaurant scene is not to be missed, and there are options for every budget! San Miguel de Allende has over 500 restaurants! You could eat out every day and not eat at the same place twice.
You can enjoy everything from traditional Mexican food to Italian, Japanese, French, Greek, and all kinds of creative fusions. It doesn't matter how much you spend; whether you visit a fine dining establishment or a casual hole-in-the-wall type place, you're sure to have a delicious meal.
Here are a few examples of what it costs to dine out in San Miguel de Allende:
3-course meal for two at a mid-range restaurant – $900 MXN or $45 USD
Meal for two and a budget restaurant – $250 MXN or $10 USD
Latte from a local coffee shop – $35 MXN or $2.75 USD
Groceries
The cost of groceries in San Miguel de Allende varies depending on where you shop. City Market is a popular, high-end supermarket that many expats and locals enjoy frequenting. You can find high-quality food and many imported products here, but expect to pay more than you would in other stores. There are many Mexican supermarkets in San Miguel, including La Comer, Soriana, and Bodega Aurrera, where you'll find lower prices than City Market.
You can also buy groceries from mercados and independent vendors (like dedicated butcher shops and bakeries, etc.). This is a great way to purchase fresh, high-quality products at low prices. There are also weekly street markets (tianguis) in different neighborhoods throughout the city where you can purchase food and goods from local vendors.
Expect to spend around 1,800 pesos or $90 USD per week on groceries for two people, shopping at a mix of supermarkets and mercados. This would be a fairly generous budget that includes purchasing some higher-priced imported products. You could easily spend much less (or more!) depending on where you prefer to shop!
Getting around
If you live in a central neighborhood within San Miguel de Allende, you'll be able to walk most places within a few minutes. When you want to travel a little further from home, you'll find that public transportation is very affordable.
Here's what you can expect to spend getting around San Miguel de Allende:
Local bus fare: About $10 MXN or $0.50 each way
Taxi – $50 – $80 MXN or about $3 to $6 depending on the distance
Another popular way to get around is by using the rideshare app, DiDi. Prices are similar to taxis, but the app functions the same way as Uber, allowing you to request a taxi in advance and make the payment with a credit card.
Protip: when taking Ubers in Mexico, offer to pay them in cash on the app. It'll ensure drivers don't cancel on you- which tends to happen a lot in Mexico.
Lifestyle and Culture in San Miguel de Allende
There's so much to love about living in San Miguel de Allende. In addition to the natural beauty and the stunning architecture, the city is known for its arts scene. There are all kinds of boutiques and galleries throughout the city where you can browse and purchase pieces from both national and international artists with a variety of styles and mediums.
The city has a fantastic food scene, where you can sample cuisine from around the world in all kinds of different, creative presentations. You can even take cooking classes to hone your own culinary technique!
San Miguel also hosts many events, including music festivals, concerts, art shows, and more, so there's always something to participate in within the city!
Expats in San Miguel frequently praise the slower pace of living, the walkability, and the pleasant weather.
Preparing for your move
If you're seriously considering retiring in San Miguel de Allende, consider taking one of our private relocation tours led by local experts. These tours may last 1 to 3 days and are fully customizable based on your interests. They're a great way to experience the city and your guide will be happy to answer any questions you have about what it's like to live there full-time. Click here to learn more about relocation tours!
In addition to relocation tours, I've created several other resources to assist you with your move to Mexico.
For a step-by-step guide to moving to Mexico the right way, check out the Mexico Relocation Guide. It also includes a complete directory of trusted contacts throughout the country, from immigration experts to real estate companies, health insurance companies, pet transport, and more.