There's a good reason why Oaxaca regularly ranks high as a top city to visit in Mexico.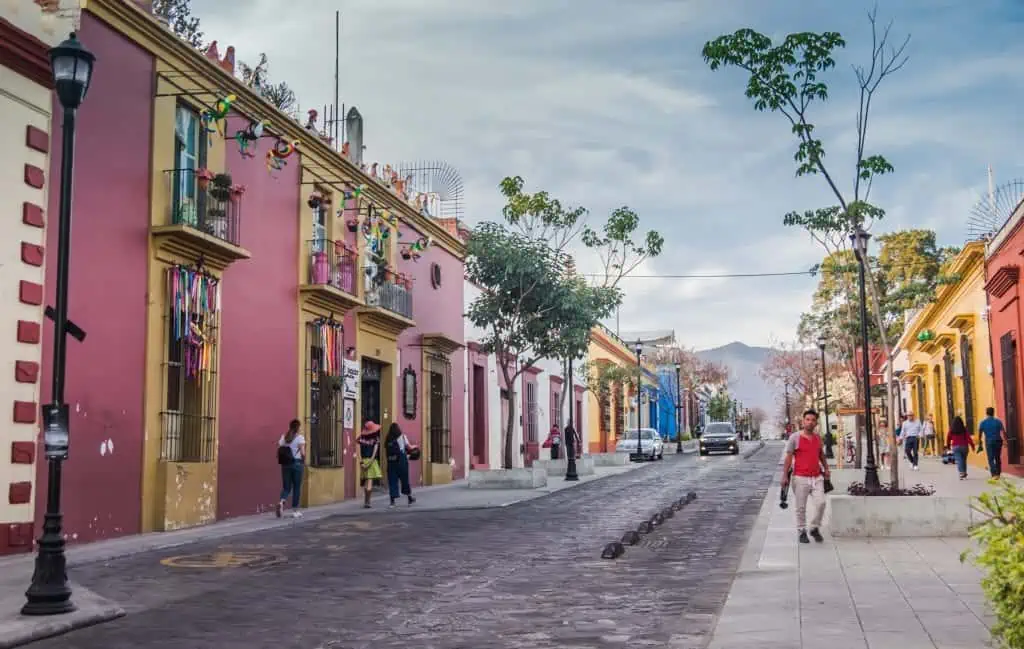 While it's not the hidden gem it once was, Oaxaca continues to exude its characteristic charm and energy. That's why many people come and live in Mexico. In this city of 400,000, about 5,000 are expats, mostly from the United States and Canada.
Located at the nexus of three mountain valleys in Mexico's second-most southern state, this city, officially known as Oaxaca de Juarez, offers its take on Mexico. You won't find the high rises of the resort towns in this city of colonial-period stone buildings. The state of Oaxaca has one of the largest indigenous populations in Mexico. As such, time-honored traditions and customs are not just on display here, they are part of the life and energy of Oaxaca.
You will also find many of the modern amenities of urban life. Every year, more fiber-optic cables are installed, greatly improving internet speeds. There are many excellent and affordable medical specialists in the city. Several neighborhoods boast co-working spaces, specialty grocery stores, and chic cafes are now quite common.
This combination of tradition and adaptability represents just some of the city's most attractive qualities. People here also enjoy Oaxaca's access to nature, exceptional food, and agreeable climate — just to name a few.
If this has you interested, Oaxaca might be the place for you.
You May Be Interested in Our Video Overview of Living in Oaxaca
Where is Oaxaca Located?
The city of Oaxaca (pronounced wah-HAH-Kah) is in the state's center, which shares its name. Oaxaca International Airport is less than 30 minutes from downtown. With direct connections to Mexico City, other Mexican international airports, and a few locations in the United States, getting there is a straightforward process.
Downtown Oaxaca, or El Centro, is the hub of much of the action. It is a dense collection of modern and colonial-era buildings, plazas, alleyways, and traffic-clogged streets. However, the city quickly gives way to a pastoral countryside. You can be in rustic fields, mountain-top cloud forests, and small artisan towns in less than an hour.
Many retirees seeking a slower pace of life choose to live in the surrounding valleys rather than the city.
Getting Around Oaxaca
The centro of Oaxaca is very walkable because the major attractions are all close. You can walk from the central plaza, or Zócalo as it is known in Spanish, to just about anywhere in under fifteen minutes. Just watch your step on the narrow and uneven sidewalks. The pedestrian-only street, the Alcalá, also makes for pleasant and traffic-free strolling across town.
Taxis in Oaxaca are plentiful and popular. A daytime taxi ride within El Centro should run MXN 50-60 or USD 2.50-3.00. Taxi fares do rise considerably at night, though.
While usually not the quickest, local buses are the most economical choice at MXN8 or USD0.40.
Traveling to outlying towns is easy too. Buses and colectivos in Mexico (shared vans on a fixed route) into the valleys leave from various places in the city throughout the day and typically cost about MXN $20 or $1 USD.
Most expats choose not to bring a car to Oaxaca. It's not needed considering all the other transportation options. However, having your vehicle will give you more freedom to travel independently. As a tourist or a temporary resident, you will need a Temporary Import Permit (TIP) to drive your foreign-plated car in Oaxaca. You will need Mexican residency if you plan to own a Mexican-plated vehicle.
Best Neighborhoods in Oaxaca
A lot of expats settle in the downtown neighborhood of El Centro.
This puts many prime attractions, parks, museums, and restaurants within walking distance or a short cab ride away. As long as you don't mind all the noise of urban life, this is an exciting and convenient area. However, rising rents and a growing housing shortage in this neighborhood have made the outlying neighborhoods more desirable to many.
Jalatlatco, just east of downtown, lures many people with its cobbled alleyways, quaint cafes, and a profusion of murals.
To the north of Jalatlaco lies Reforma, an affluent neighborhood of upscale boutiques and international restaurants.
A short walk north of El Centro is the neighborhood of Xochimilco, a pleasant residential neighborhood that draws more residents every year.
San Felipe del Agua, at the base of the mountains four kilometers from downtown, is a quiet hub for expats looking for larger properties to buy or rent.
Many people also head to Etla, a collection of towns twenty kilometers away, for a more suburban vibe.
There are online groups for finding rentals, but you tend to pay a premium with these. The most economical means of finding the best rentals in Mexico is an informal and in-person process. That's why many expats rent short-term when they first arrive and spend that time asking around and pounding the pavement in search of their new home.
The Weather Oaxaca
Although Oaxaca is located in tropical southern Mexico, it sits at 5,100 feet above sea level (1,555 meters), creating a rather temperate climate year-round. Daily highs can range into the 70s or 80s Fahrenheit any month of the year, but they can creep into the 90s during the summer. Overnight lows are usually in the 50s but sometimes drop slightly lower in the winter.
Seasons in Oaxaca are divided into wet and dry. (seca y lluviosa in Spanish)
October through April seldom see any rain at all. You can expect regular rain and increased humidity during the other half of the year. The payoff is that summer rains turn the normally brown landscape into a lush green punctuated by vivid wildflowers.
The Best Time to Visit Oaxaca
The best time to come to Oaxaca depends greatly on your preferences. In addition to the weather, you'll have to decide whether to be in Oaxaca during a major cultural event or holiday.
Day of the Dead, Christmas, New Year, Easter week, and the Guelaguetza dance festival draw huge crowds from Mexico and abroad.
These are the times when this normally festive city pulls out all the stops and becomes a profusion of celebration. Although street processions and increased crowds can bring traffic to a standstill and fill every hotel, many people find these times to be the most emblematic of Oaxacan culture.
Major holidays and events in Oaxaca are
Holy Week – the week leading up to Easter Sunday
The Guelaguetza Dance Festival – late July
Day of the Dead – October 31 – November 2
Festival of the Virgen de Soledad – December 16 – 18
Posada/Christmas/New Year/Three Kings Day – December 16 – January 6
Things to Do in Oaxaca
Oaxaca is one of Mexico's cultural hubs. In a city where the arts and culture are a point of pride, there's no reason to ever be bored.
Here is just a sampling of things to do in Oaxaca:
Dive into the Culture
Even the United Nations recognizes the cultural richness of Oaxaca, designating it a UNESCO World Heritage Site in 1987. You can head towards the sounds of street bands and firecrackers to find a public celebration where all are welcome.
Travel less than an hour from the city, and you can shop at one of many weekly regional markets where everything from livestock to fine handcrafts is available.
Immersing yourself in the local culture will introduce to you many new perspectives and customs, which Oaxacans are often happy to share. Many Oaxaca expats specifically mention the region's rich cultural heritage as a major reason they settle there. The more you embrace the local culture, the more rewarding your experience in Oaxaca will be.
Explore the Arts
Art isn't an afterthought in Oaxaca but an indelible part of life. Art is at every turn, from puppets parading in the streets to public murals, museums, and galleries.
Many outlying towns and villages have their particular crafts, such as fanciful wooden alebrijes, naturally dyed carpets, and shimmering black pottery. Visiting generation-spanning family workshops in the various villages is one of the unique joys of Oaxaca.
Travel Back in Time
History buffs will delight in Oaxaca's many museums, colonial-era architecture, and many Mesoamerican ruins. This area has hosted a large population for millennia. This can best be appreciated at the excellently preserved Zapotec ruins of Monte Alban, located on a high plateau less than 20 minutes from downtown. Even more, ruins are scattered around the central valleys.
Within Centro, you can visit the architecturally impressive 18th Century Church of Santo Domingo, tour the Museum of Cultures of Oaxaca housed in a former monastery, and see a performance at the art nouveau Macedonia Alcalá Theater.
Never Stop Learning
There's no shortage of educational opportunities for people of any age in Oaxaca. Continuing education is popular here. Classes at schools, libraries, and community centers cover topics ranging from local flora to traditional Mexican dance and so much more.
Many expats enroll in Spanish classes upon arrival.
While some younger Oaxacans might speak English, you can never count on it. It is possible to live in Oaxaca only speaking English. However, learning Spanish will take you a lot further than you'd go without it and make life much easier overall. There are many excellent Spanish language schools in the city, and the people in Oaxaca will appreciate any effort foreigners make to speak their language.
Nature in Oaxaca
The city of Oaxaca is surrounded by natural beauty. Less than an hour away, you can find yourself hiking among orchid-clad pines in the cloud forests of the Sierra Norte. Mountain bikers can ride trails to suit any level throughout the surrounding area. At Hierve el Agua you can take a dip in a swimming hole on top of a petrified waterfall.
The city itself has many great outdoor spaces to explore and enjoy. Without leaving downtown, you can jog around one of the several urban parks, climb up to the panoramic overlook at Cerro del Fortín, or just relax under the shade of an ancient laurel tree in the Zócalo.
Savor The Flavors of Oaxacan Food
The food in Oaxaca is unique to the country.
Sure, there are tacos and other standard Mexican foods there. But there's so much more to this cuisine, ripe with indigenous culinary tradition. Oaxaca is sometimes called "the land of the seven moles" in reference to the complex, labor-intensive sauces that define much of the local cuisine.
Eating in Oaxaca is an adventure. Whether dining at a street cart or a high-end restaurant, you'll see that Oaxacans are justifiably proud of their culinary traditions.
Here's an idea of the cost of eating out in Oaxaca:
A couple of plates of tacos and drinks for two at a street cart – MXN120 / $6 USD
Cappuccino and pastry at a cafe – MXN80 / $4 USD
Set lunch for two at a budget restaurant – MXN160 / $8 USD
3-course dinner for two at a mid-range restaurant – MXN400 / $20 USD
Multi-course meal and cocktails for two -high-end restaurant – MXN1600 / $80 USD
Oaxaca's Mezcal
Oaxaca is also known for its mezcal, a smokey cousin of tequila. Although mezcal has been gaining in popularity north of the border in recent years, Mexicans all over Mexico are familiar with this beverage.
Mezcal is made throughout the central valleys of Oaxaca, often in small-batch family-run operations. Mezcal producers continue to use methods of production that have been perfected over centuries. A visit to a tasting room in town or a distillery, or palenque, in the surrounding valleys is an intoxicating journey of flavor and tradition.
Is Oaxaca Safe?
Like any city in the world, Oaxaca is not free of crime.
Fortunately, Oaxaca does not experience the cartel-related violence that afflicts some other parts of Mexico. Most crime in Oaxaca involves petty theft, especially late at night. Practice common sense safety, stay aware of your surroundings, and avoid any situation that feels uncomfortable.
The city of Oaxaca is far enough inland that it doesn't experience the hurricanes that can strike the coastal regions. Heavy rains in the late summer can lead to localized flooding and a proliferation of mosquitoes.
Oaxaca is positioned along a major fault line. Large earthquakes are rare, but they still occur from time to time. While they are not something you need to worry about constantly, you should be aware of what must be done in an emergency.
What Do You Think About Oaxaca?
We think experiencing Oaxaca should be on anyone's top list.
Oaxaca is a beautiful city in Mexico that offers something for everyone. From its vibrant culture to its stunning landscapes, Oaxaca has no shortage of things to do and see.
Whether you're looking for adventure, relaxation, or something in between, Oaxaca has it all. So if you're considering a trip to Mexico, add Oaxaca to your list of must-visit destinations! With its diverse attractions and warm hospitality, you won't regret it.
And if you think Oaxaca might be a place you'd like to live in Mexico, check out our private Oaxaca Relocation Tours!