If you've been researching how to get residency in Mexico, you've probably come across a few terms that have you scratching your head.
One of them is Canje
What does it mean? I'll explain
Canje meaning
When you are approved at the Mexican Consulate for Residency in Mexico, you will get a stamp on your passport.
Your residency stamp is valid for up to 180 days, and could be seen as a pre-approval. Which means you will have to make plans to travel to Mexico before your 180 days and make an appointment with INM as soon as you arrive in Mexico. Your residency isn't finalized until you finish the process in Mexico.
This is known as Canje and translates to an exchange. Because you're essentially exchanging your stamp for an actual card.
*Pro tip- we recommend traveling to Mexico no later than 150 days from the date of your Residency Stamp.
Arriving in Mexico
If you are traveling by air, when you arrive at an international airport in Mexico it is CRUCIAL that you fill out your FMM the right way. At the bottom of the FMM there is a slot with the words "Estancia Maxima 30 Dias" and the word "CANJE".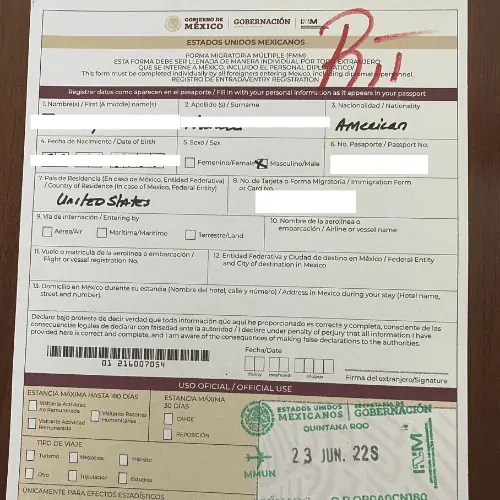 Before approaching an immigration agent, make sure you fill in this box and make sure you give the agent your passport with the residency stamp page open. That way they see you are a resident of Mexico and not a tourist.
If an immigration agent stamps your FMM as a tourist, you will have canceled your Residency Status in Mexico. DON'T MAKE THIS MISTAKE!
And if you are driving across the border, it is YOUR responsibility to go to the INM offices across the border and ask for your FMM to be stamped for CANJE. INM offices are clearly marked with the letters INM. However, if you have trouble finding it, you can always ask an immigration agent to point you in the right direction.
Want to know more about FMMs- read this article
You Have 30 Days MAX to Start The CANJE Process After Entering Mexico
Upon entering Mexico, you have up to 30 DAYS to make an appointment with INM to start your canje process.
Keep in mind that if you get your appointment more than 30 days after entering Mexico, you are okay. As long as you start the process for Canje within those 30 days you are legally fine. Make sure you print out your appointment QR code and carry this along with your passport and residency stamp in the event there is a random immigration checkpoint.
Because INM tends to lack appointment availability, you shouldn't wait very long from the moment you arrive in Mexico to make your INM appointment. And you can expect your Canje to take anywhere from 2 days to 2 months from beginning to completion.
And once you enter Mexico as a canje resident, you have to stay in Mexico until you have your residency card in hand. Leaving without permission can cancel your residency.
However, there are specific offices that offer fast turnaround times- More on that below.
How To Make An Appointment
As of March 15, 2022- All appointments at INM must be made in person.
And for the most part, most INM offices will only make an appointment for you once you have entered Mexico. However, there are ways around this since there are immigration facilitators that have special "spaces" reserved for their law firms and can issue their customers an appointment ahead of time.
Only specific immigration facilitators have access to this. If you'd like a recommendation for a facilitator in Mexico that can schedule an appointment at INM ahead of time for you, check out our COMPLETE Mexico Relocation Guide. We have a few special recommendations in Mexico City and other INM locations that can help you expedite the process.
Depending on the INM office that you are visiting, you may be able to get an appointment on the same day. If not, you will be asked to return on a future date. Usually, immigration considers the amount of time you have left on your FMM to ensure you get an appointment and give priority to those who will soon have an expired FMM.
Paperwork Needed
At the time of your appointment, you will need to bring:
Original passport containing your Mexican Residency Visa Stamp
Your digital FMM printed and 2 copies (instructions on digital FMM below)
If you received a paper FMM at a land border, bring the original and 2 copies
A debit or credit card for government charges
A letter requesting Canje to immigration- In Spanish (see below)
Current bank statements showing you have funds available to you in Mexico.
Immigration forms for Canje filled out and signed in blue ink. See below
Your immigration forms can be filled out electronically, printed out, and brought to the INM office at the time of your appointment. To fill out your forms, go to this site
"expedicion de documento migratorio por canje"
and click on the "solicitud" button
Then you need to select the type of document you'll need. In this case, it is "canjear o reponer documento migratorio"
Then select "canje de FMM por tarjeta de visitante o de residente"
You will then need to fill out your information in the fields below. If you need this page translated into English, you can right-click and translate to English. (works best on PC)
You skip the "curp" section as you won't have this yet.
And once you are finished, you will need to click "Guardar" at the bottom of the screen.
The form will then ask if the information saved is correct
"es correcta la informacion capturada?" Click on "Si"
Once you click yes, the information will be saved and you can print out the form from the next page.
The form will download into a PDF. Print these pages, and you must bring them to your INM appointment.
This is a common part of the process where people make mistakes. I suggest hiring a facilitator to help you avoid time delays by ensuring your forms are filled out correctly.
*Now, regarding bringing bank statements to your INM appointment. Not all INM offices require you to bring bank statements during Canje. But as a precaution and because things change almost every day, I would be prepared with your bank's last 3 months of bank statements. There isn't a minimum amount you need to bring, but it is a good idea to have them just in case immigration wants to see that you have some funds available if you plan to live in Mexico.
Letter in Spanish for INM
During your appointment, INM requests a letter in Spanish asking for Canje.
Here is an example letter you can use. Make sure to fill it out with your information following the instructions in the example letter.
Each INM (immigration) Office Varies
Please consult with your immigration facilitator for this part of the process since each office varies.
For example, the following offices accept credit card or debit card payments for all immigration fees
Whereas some INM offices expect you to go to a partner bank, make a payment, and bring back the proof of payment. Many INM offices take credit card payments. However, be prepared for their card machine to be down. If this happens, the INM officer will give you a bank you can pay your immigration fees at and bring a receipt back to INM.
This is one of the reasons many people who attempt to do it on their own end up making a mistake and have to start over again or lose money. They go to the wrong bank, or pay the wrong amount, or write the wrong information.
If you aren't working with an immigration facilitator, we suggest getting in line at your local INM office or "delegacion" as early as 6 am to be one of the first people in line. Some INM offices only issue a limited number of appointments a day, making it even more important that you get in line as early as possible.
Waiting For Your Appointment
Once you are in the canje process and are waiting for your upcoming appointment with INM, you cannot leave Mexico without special permission.
If you leave Mexico without permission from INM, you will have abandoned your residency card. You can apply for an exit and re-entry permit- which gives you permission to leave for up to 60 days.
However you should know that INM is very strict on who it grants these permits to and for what reasons. The only times I have known INM to grant these permits are for emergencies such as health, death, or accidents.
If You Received An eFMM
Most international airports issue digital FMMs aka eFMM. Whereas all land borders issue a paper FMM. This is a document you must have to make an appointment for canje. However, more and more airports are switching to modernizing this step and issuing an electronic FMM.
If you are given an eFMM you will only receive a stamp on your passport and be asked to register your FMM on a QR code immigration will give you.
You will need to create an account and print out this digital FMM. 
Issue With An eFMM?
There have been reports of mistakes being made when people are coming to Mexico for canje and the new digital FMM or eFMM.
One frequent issue is your entrance to Mexico not being input correctly by the airport immigration agent. People are only finding out when they turn up at an immigration office to process a canje into a residency card.
If this happens to you, don't panic
Here's how to fix it. There is a national phone number or email line to request that your entrance be corrected. Email the address below explaining your problem, which should be corrected within 24 hours. Or have your facilitator contact them for you
Don't Use The Self-Serve Kiosks
Please be aware! These self-serve kiosks are NOT for residents. You will get registered as a tourist- which is not good. Don't use one if you are a resident.
Other Common Mistakes During Canje
Here are some of the most common mistakes I have seen when people are going through their immigration process on their own.
If you fly or drive to Mexico, you will be given either an FMM paper or FMM stamp on your passport. IT MUST HAVE the words canje either written on it or checkmarked if a paper FMM. If you are entered into the system as a tourist, your residency is canceled, and you will have to start all over again.
From the time you enter Mexico, you have 30 days to at least start the process at the immigration office. If your appointment at INM for canje is past the 30 days, don't worry you are not going to get in trouble. But it does mean you cannot leave Mexico unless you get permission from immigration. Otherwise, you cancel your whole process.
If you are driving to Mexico to do your Canje, it is YOUR responsibility to stop at INM at the border and ask for your FMM. Without this, you cannot get your residency card. And it would be a bummer to have to drive back to the border.
What you get in the Mexican consulate is what you get in Mexico. This means if you got temporary, you can't request permanent residency once you go to INM (immigration) in Mexico.
Once you get your Mexican visa stamped on your passport, you need to finish the process in Mexico the next time you enter. You can't come as a tourist while you have the visa in your passport and come back later to the country to finish it.
If you need to leave Mexico before you can finish the process, you will need to ask for an exit and re-entry permit, which permits you to leave Mexico for up to 60 days. If you leave without this permit, you will cancel your residency process. And you can only get this permit AFTER you have gotten your fingerprints and pictures done at INM