You may be thinking to yourself how you can have a better life for less in another country. For example, an interesting fact is that the average social security check is $1,543 USD. And unless you own your home without a mortgage in the U.S., that's not a lot of money to retire on in today's dollars. Not to mention there are many people who draw much less than the average. So, retirement seems almost impossible.
But what if you could significantly reduce your cost of living? What if expenses like utilities, healthcare, groceries, internet, cellphone service, pet supplies, and entertainment were significantly less?
Now, although most of your expenses might be about the same in a new city- for example, rent and internet come out to about the same cost in the U.S. vs Mexico- considering most of the cities you might like to live in have a higher cost of living and not to mention you may want a nicer house.
But one thing that stands out as to how most people can have significant savings in Mexico is to live somewhere that you don't need to spend the astronomical costs of air conditioning in Mexico.
Hence, the highlands of Mexico.
Not needing an air conditioner will not only save you an average of $200 USD/month in Mexico, but it also gives you cleaner air to breathe in. So let's take a look at some of the best highland cities to retire in Mexico.
Ajijic
It is estimated that an average of 15,000 expats live Lakeside at least part-time (5,000 of them are considered full-time according to Lake Chapala Society). In fact, Ajijic is known as the number 1 city in the world with the highest concentration of American and Canadian expats.
So what makes this area so attractive?
According to several sources, National Geographic classified Ajijic as the 2nd best weather in the world. (2nd only to Athens, Greece) And that's because the lake sits at about 5,000 ft above sea level so there is virtually no humidity. And because Ajijic and the Lake Chapala area are surrounded by mountains it is protected from high winds. That makes the weather very pleasant at about 74 degrees most of the year. The tail end of the spring is the hottest time of the year in Ajijic. But the weather is still very comfortable with temperatures ranging between 80-90 degrees during the day.
You can see why this is the #1 town to retire in Mexico.
Houses in Ajijic don't have air conditioning because it's not needed. Even in the hotter months of the year, the houses stay cool and fresh. A simple fan and some open windows will cool down a room in a matter of minutes. And if that isn't enough of a reason to make you want to move to Ajijic, the availability of fresh food, fresh plants, and fresh air can mean a significant decrease in medical needs. In fact, several retirees who moved to Ajijic have reported feeling more energized, lost weight, and feel younger!
San Miguel de Allende
It is reported that approx 10% of San Miguel's population is made up of expats. That means that out of 140,000 people living in San Miguel de Allende full time, about 14,000 of them are expats in this magical town.
Recognized as a UNESCO world heritage site, San Miguel de Allende sits at over 6,000 ft above sea level and has some of the most beautiful afternoons in Mexico in my opinion. It's no wonder why this is one of the best places to retire in Mexico.
The weather in San Miguel is also surrounded by hills and valleys which protect it from high winds. The average temperature in San Miguel is in the 80s during the day and drops to the low 50s at night. In San Miguel de Allende, you will need a sweater or jacket in the cooler months like November- March.
And just like Ajijic, it'll be hard to find a home in San Miguel de Allende with air conditioning or heating. However, most homes tend to have either a fireplace or a portable heater for those cool nights. But during the day, San Miguel tends to get an average of 7 hours of daylight every day and 320 days of sunlight a year! Plenty of sunshine to enjoy the many outdoor cafes and patios around town.
If you plan to retire in San Miguel de Allende it doesn't mean you come and do nothing. In fact, there are more retirees going out, dancing, taking cooking classes, and socializing than I've ever seen in any other town in Mexico. San Miguel is for the young at heart!
San Cristobal De Las Casas
More and more retirees are discovering the charming colonial city- San Cristobal de Las Casas. Its city center is compact, walkable, safe, and surrounded by lush green hills which make it very pleasant during the day. The average weather in San Cris is 75 degrees during the day and in the lower 50s to 40s at night.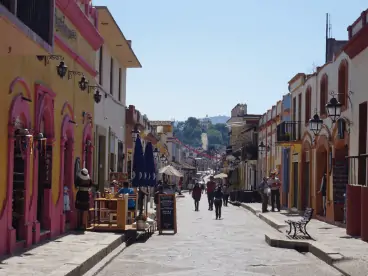 It's so nice to walk around the city center in a light shirt and sandals. But be prepared to wear a heavy jacket and closed-toe shoes at night as it gets pretty chilly. It really does give you a taste of warmth and coolness in a single day that is very refreshing.
The houses in San Cris usually don't have central heating, but it's not uncommon to have a fireplace or several portable heaters around the house. Especially if you live in the hills outside of the city center.
San Cris can be especially attractive if you don't have a lot of disposable income to retire on. And that's because a lot of rentals are very affordable while being very nice and modern. I recently interviewed an expat who is able to live comfortably with her family of 4 on less than $2,000 USD/Month. And it's not uncommon for landlords in San Cris to include electricity, gas, internet, and water. So it's one less thing you'd have to budget for if you found a rental like that.
I feel like eventually, San Cris will go from being this hidden gem to one of the most popular places for retirees in Mexico.
Queretaro
Queretaro sits at just under 6,000 ft above sea level (which is comparable to cities like Colorado Springs and Denver). And what makes Queretaro quite unique in this list is it's size as a city. Queretaro's population is over 1 million. And which that comes to a lot of amenities like an international airport, big box retailers, various private hospitals, etc.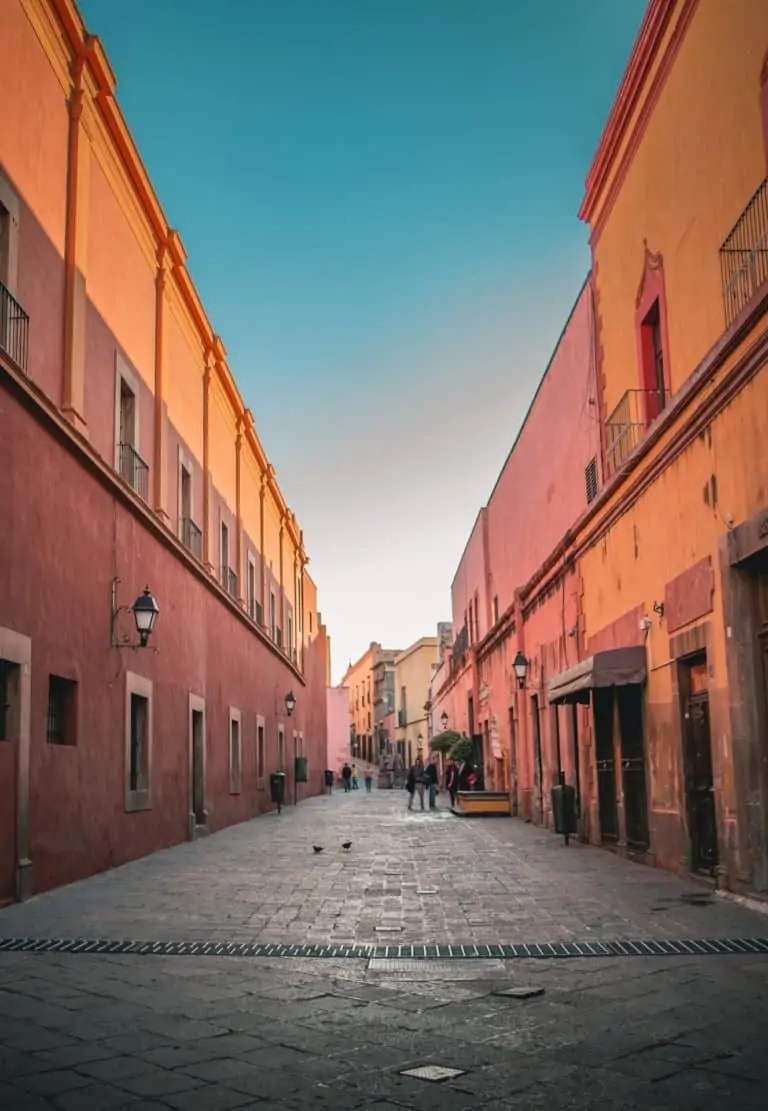 If you like living in a big city, love the idea of year-round temperate weather, and don't want to live in Mexico City, I highly suggest you consider Queretaro!
Queretaro's expat population is mostly made up of younger professionals who are recruited to work at the big corporations that have operations in Queretaro. So English may not be widely spoken around here. But if you want to immerse yourself in learning Spanish- retiring in Queretaro should be on your shortlist.
It's a beautiful city with an average temperature between 70-80 degrees during the day. And at night you can expect comfortable weather in the 50s-60s. Queretaro is also surrounding by lush green hills which protect it from extreme weather and high winds. Living in Queretaro can be exciting like living in a big city with the beautiful colonial charm of the city center. It's a little of both worlds. Plus, Queretaro is only an hour away from San Miguel de Allende.
Only an hour away from Mexico City is the land of eternal spring- Cuernavaca. The name actually translates to surrounded by trees so you can imagine what this forrest like town is like. Cuernava is evergreen year round and surrounded by the Tepozteco Mountains.
The weather in Cuernavaca is generally in the mid 70s to low 80s during the day and hardly ever drops below 60 degrees at night. Cuernavaca has a dry season from November through April. And a wet season from May through October. But those showers ensure that Cuernava can stay fresh, cool, and lush!
The expat community in Cuernavaca is not as large as San Miguel de Allende or Ajijic. It could be a very well kept secret if you are looking to retire near a big city but in a small and beautiful town. Cuernavaca gets most of its traffic on weekends when nearby wealthy Mexicans come to blow off some steam. In fact, many Mexican families tend to have second homes in the area.
Cuernavaca may be a small town, but it has everything you could possibly need. There are a few golf courses, five star hotels, spas, boutique shops, hospitals, grocery stores, a movie theater, and plenty of restaurants. And if you need to go into the city, a very comfortable bus ride is only about $9 USD ($170 MXN). Retirement in Cuernavaca is very attractive for its year-round great weather, but many people end up staying for its beauty and convenience.
Oaxaca
Many of you may have heard about Huatulco and Puerto Escondido for retirement in the state of Oaxaca. But many haven't considered the rich and beautiful capital as a retirement spot- Oaxaca de Juarez. Also simply known as Oaxaca.
Not only do you get year-round temperate weather, but you'll be surrounded by some of the best food and mezcal in Mexico. Oxaca is actually known as a foodie destination and the birthplace of the famous Mexican dish: Mole. Oaxaca really is a great place for retirement!
Oaxaca City has very comfortable and has temperate weather year-round. It sits just below 5,000 ft above sea level. And although Oaxaca does technically have temperate weather you should know that it's also drier than the other cities mentioned so far. The weather in Oaxaca ranges between 80-85 during the day and hardly ever drops below 50 degrees at night. So if you'd like to find a city that is a bit warmer but still with plenty of sunshine, Oaxaca could be your retirement haven.
Most homes in Oaxaca have ceiling fans but don't expect to see air conditioning here. And at most times of the day, you won't need it. Homes in Mexico are made of concrete and it works really well at keeping them cool during the day. The only time you may need a light jacket or sweater could be after it rains in the afternoon. Oaxaca is also home to a lot of co-working spaces and several digital nomads. So there are expats of all ages here.
This beautiful city is the capital of Oaxaca so you'll have access to the biggest hospitals in the state, an international airport, malls, shopping centers, big box stores, and all the infrastructure of a big city. And you're only a 6-hour drive to some of the beaches in Mexico. What more could you want?